Are you looking for the best Callaway golf ball to improve your game?
We've got you covered. There are a lot of different golf balls from Callaway and each one is designed to help with different parts of your game. That's exactly why we put together the ultimate Callaway list. We're going to tell you which Callaway golf ball is right for you.
We know your golf game could probably use some help. And the biggest help usually starts with the golf ball - it's a part of every stroke you make on the course. So with our definitive list, you can finally match the perfect Callaway ball to your game and find help where you need it most.
So let's tee it up with a brand new Callaway golf ball custom-made for your game!
💖
We only recommend products that we love and research thoroughly. We hope you love them too. All of the products we recommend have been individually selected by our editors and represent our own opinions. If you order from any of the links in this article we may get a share of the sales. Please note that prices and availability are accurate at the time this article is published.
How We Choose The Best For You
You might be wondering how we select the best Callaway golf balls. Surely, there are many different brands and types of golf balls on the market.
It's true that there are a lot of golf balls to choose from, but not all of them are created equal. In fact, picking the wrong ball can lead to a miserable round of golf - score included.
As usual, we're here to help. We've researched all the different types of Callaway golf balls on the market. And we've come up with our top-ranked list. We're talking about the best distance ball, the best ball for value, the best for seniors, and more.
So, let's get started and show you what makes Callaway balls so special.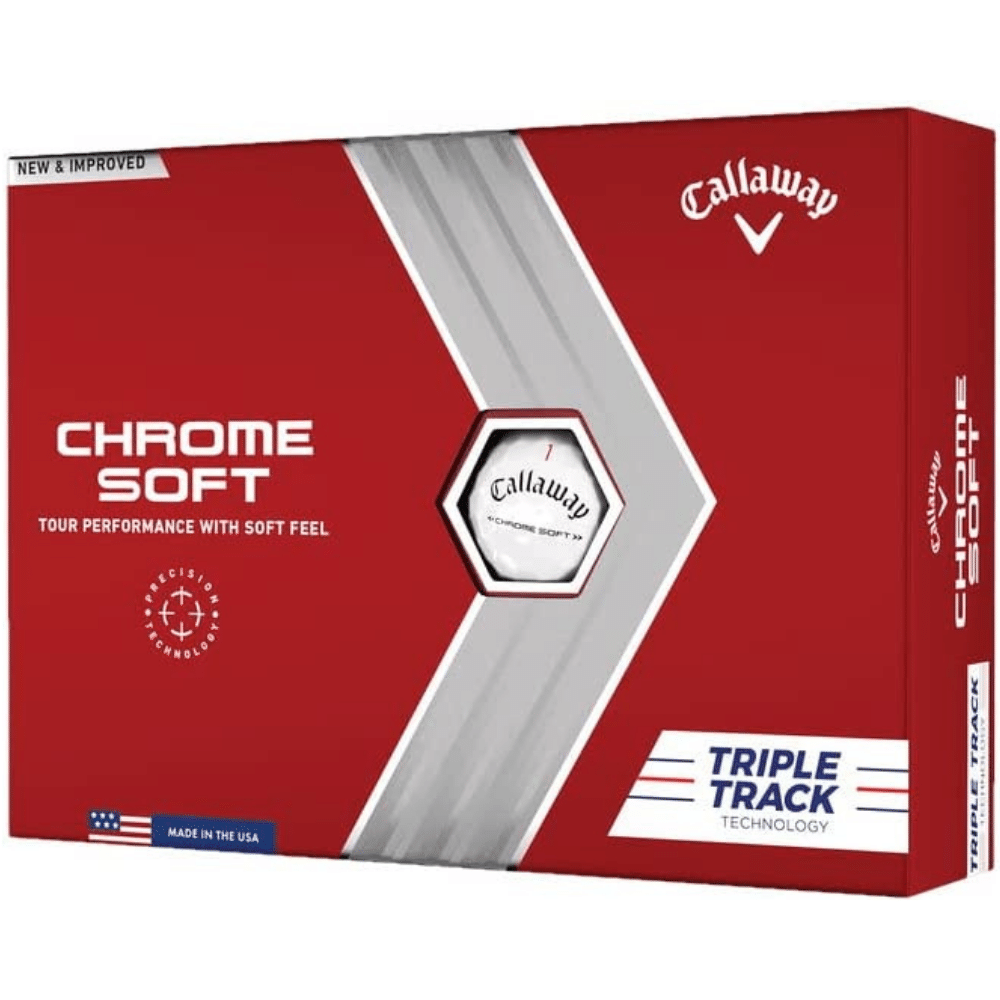 Best All-Around
Callaway Chrome Soft Golf Ball
Check Price On Amazon
Why We Love It
Looking for a golf ball that will improve your game and make you look like a pro? Callaway's Chrome Soft is the perfect choice! With its proprietary new Precision Technology, the Chrome Soft Golf Ball travels further down the fairway and it's a straighter ball so it always seems to be in the fairway. Plus it features triple track technology - three lines to help you line up and sink more putts.
No matter your skill level, the Chrome Soft golf ball is designed to give you more distance off the tee, great feel, and excellent greenside control. So why settle for anything less? Get out there and show 'em what you're made of with Callaway's Chrome Soft!
How It Can Help Your Game
The brilliance of this ball is how well it plays for all skill levels. It's a medium compression ball with a new design that features Precision Technology where all aspects of the ball were enhanced. Let's dive in and take a quick look
This three-piece ball features a new super elastic SoftFast Core. This genius core produces higher speeds without sacrificing control and spin. The dimple design is new -  the Hex Tour Aero promotes a straighter ball flight. This will help if you tend to hook or slice the ball excessively.
So if you want what every golfer wants - distance, control, and that Calaway soft feel, don't miss out on this top-of-the-line golf ball. Order your Chrome Softs Today!
Tech Features
Three Piece Construction
Long Game: Low spin
Short Game: High spin
Launch: High
Hyper SoftFast Core: Speed, Control and Soft Feel
Dimple Design: Hex Tour Aerodynamics
Soft Urethane Cover
Compression: 75
Colors: White, Yellow, Truvis Yellow/Black, White/Triple Track Alignment, Yellow/Triple Track Alignment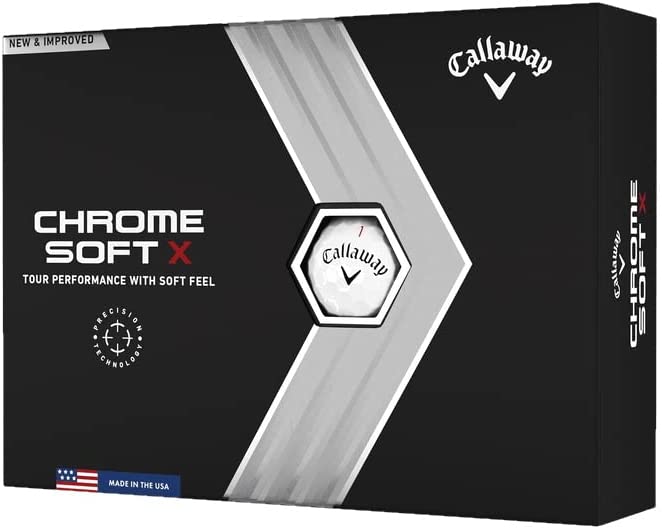 Best For Low Handicappers
Callaway Chrome Soft X Golf Balls
Check Price On Amazon
Why We Love It
Behind Titleist's Pro V1 models this is the third most popular ball amongst the top 100 PGA players. The Callaway Chrome Soft X features the same Precision Technology that makes the Chrome Soft such a great ball. The difference is this ball is made for better golfers with faster swing speeds.
This ball is all about spin and short game control while delivering some of the fastest ball speeds of any Callaway ball. And better players will love the ability to shape their shots with the Chrome Soft X. No wonder it's so popular on Tours worldwide. So don't wait any longer, make the switch to Chrome Soft golf balls today and see the difference for yourself!
How It Can Help Your Game
Do you like to hit the ball fast and hard? Do you want a ball that spins like a top? Then you need the Callaway Chrome Soft X. This high-performance ball is designed for Tour pros and better players who want exceptional spin consistency and the ability to work their magic around the greens.
This ball adopts many of the same features as the chrome soft balls but there are a few key differences. This is a four-piece ball vs the three pieces of the Chrome Soft. It has a lower launch off the driver and irons. It's not as forgiving, so you have the ability to work the ball in either direction.
With the fastest of ball speeds and the highest spin rating, this ball provides everything you need to take your game to the next level. So don't settle for anything less, make the switch to the Callaway Chrome Soft X today!
Tech Features
Four Piece Construction
Long Game: Low - Mid Spin
Short Game: Highest spin
Launch: Mid
Hyper Elastic SoftFast Core - Fastest Speeds, More Control and Medium Soft Feel
Dimple Design - Hex Tour Aero
Soft Urethane Cover
Compression - 95
Colors - White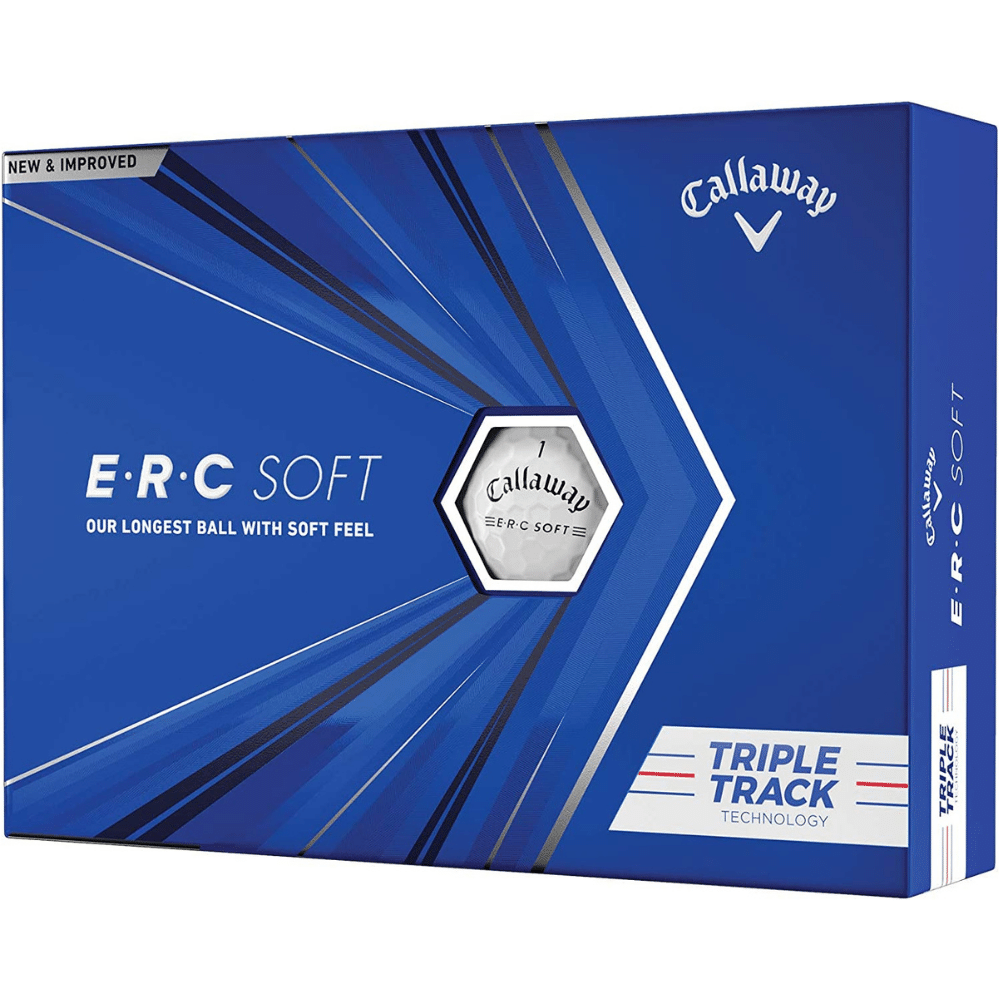 Best Distance
Callaway E*R*C Soft Golf Balls
Check Price On Amazon
Why We Love It
Looking for a golf ball that will help you achieve maximum distance without sacrificing soft feel or greenside control? Look no further than the Callaway E*R*C Soft Golf Ball. This ball features an innovative new Hybrid Cover and PARALOID™ Impact Modifier from Dow - more about that later. In combination, this creates a ball that is both long and forgiving.
Callaway's Triple Track putting technology is featured on this ball as well. Callaway claims the triple track is more accurate than a regular stamp.  It helps with putting alignment, so you can be sure your aim is correct. So whether you're looking for a ball that will help you bomb your drive or one that will give you the confidence to make those tricky putts, the Callaway E*R*C Soft Golf Ball is the perfect choice.
How It Can Help Your Game
Typical of Callaway golf balls, this ball is all about technology and innovation. This is a three-piece distance golf ball. The high-energy core with the help of the high-speed mantle creates the distance and speed everybody raves about. One reviewer boasts about his new found ability to reach the par 5's in two at his local club when he started playing the Callaway E*R*C.
Next, we have the new hybrid cover. Callaway has again partnered with Dow Chemical to develop the PARALOID Impact Modifier. Sounds great but how does it help you? It has the lowest spin off the driver, that's where you get that extra length. It's the most forgiving and straightest ball, meaning you'll see more of your big drives landing in the fairway. And it still has excellent greenside spin and a soft feel.
There it is - the perfect distance golf ball from Callaway!
Tech Features
3-Piece Construction
Long Game - Lowest Spin
Short Game - Mid spin
Ball Flight - High
Dimple Pattern - Hex Aerodynamics
High Energy Core - Longest Distance
Innovative Hybrid Cover Featuring Paraloid From Dow Chemical- Soft Feel
Compression - 60
Colors - White, Yellow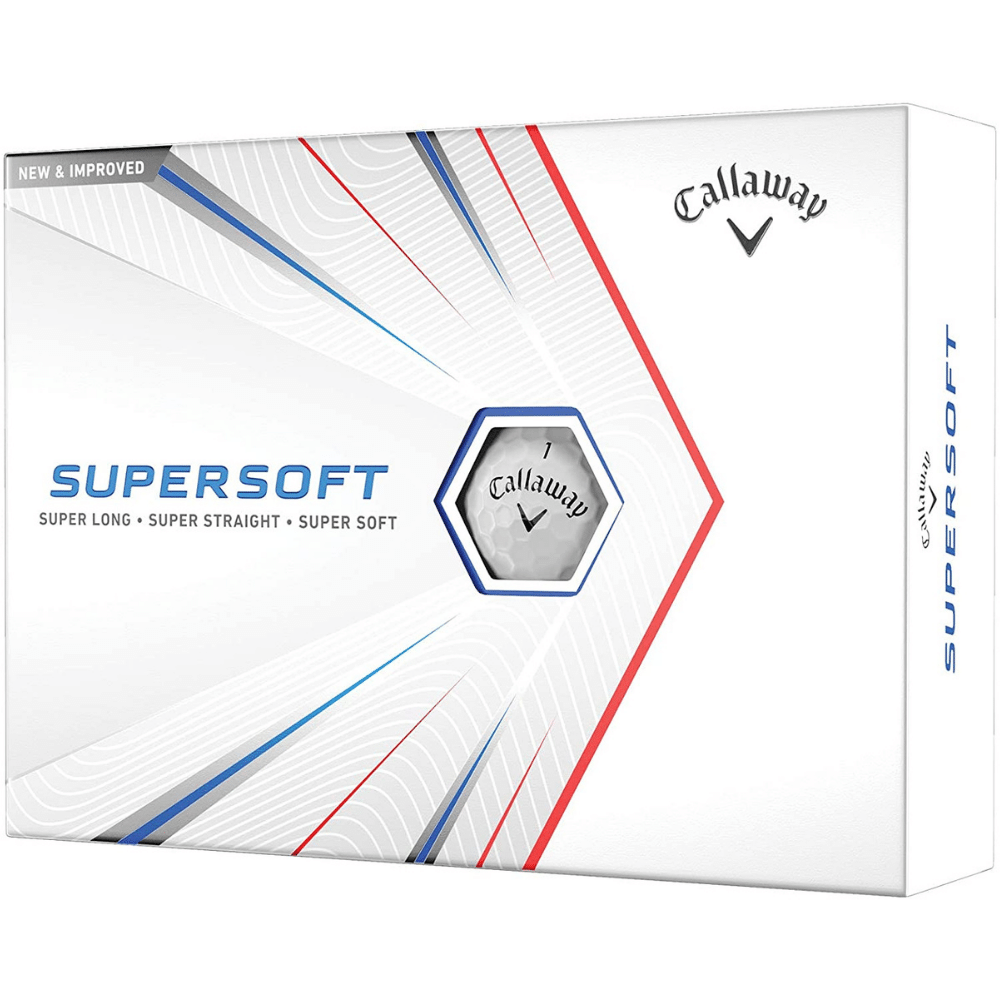 Best Senior
Callaway Supersoft Golf Balls.
Check Price On Amazon
Why We Love It
Looking for a golf ball that won't punish you for your lack of swing speed? Then jump on the  Callaway Supersoft bandwagon. The Supersoft has long been one of Callaways most popular balls and now its new and improved.
These little beauties are designed specifically for golfers with low swing speeds, and they deliver on their promise of increased distance and better greenside control. Thanks to their soft construction, they're also extremely forgiving, making them the perfect choice for seniors or beginners.
So if you're looking for a golf ball that won't leave you feeling frustrated, the Callaway Supersoft is the way to go!
How It Can Help Your Game
We all know that feeling. You step up to the tee, take a deep breath, and swing as hard as you can. And the ball just doesn't go as far as you want it to. Maybe you've been told your swing is too slow. Or maybe you just can't seem to hit the sweet spot no matter how hard you try.
Introducing the Callaway Supersoft Golf Ball. This ball is designed for slower swing speeds, so you can finally get the distance you've been wanting. The low compression rating of 38 means that this ball is easily compressed, making it perfect for seniors or anyone with a slower swing speed. You'll be able to launch the ball higher and watch it carry past your playing partners.
The Callaway Supersoft features the same hybrid Paraloid cover found in the E*R*C* Soft and the Hex Aerodynamic Dimple Pattern. But this is a two-piece ball that is much harder than the E*R*C*.
So don't let a slow swing speed hold you back any longer. Try the Callaway Supersoft Golf Ball and start crushing it down the fairway.
Tech Features
Two Piece Construction
Long Game - Low spin
Short Game - Low spin
Low Compression Core - Faster Speeds With Less Energy
Hex Aerodynamic Dimple Design - Less Drag, Less Side Spin, More Forgiveness
Hybrid Ionomer Cover With PARALOID  - Maximum Distance, More Spin, Soft feel
Compression - 38
Colors - White, Green, Orange, Yellow, Pink, Red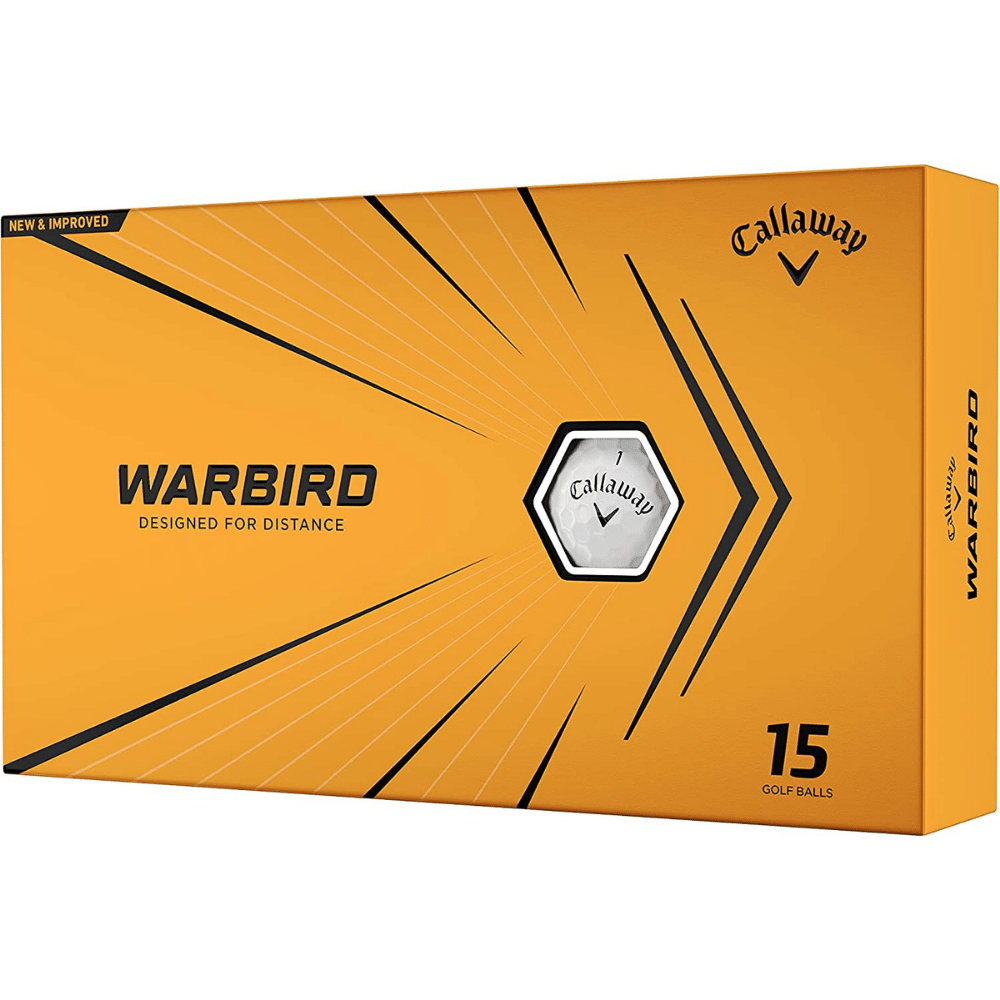 Best Value
Callaway Warbird Golf Balls
Check Price On Amazon
Why We Love It
Are you losing too many balls or just sick of paying three to five dollars per golf ball? Welcome to the Callaway Warbird golf ball - distance and value in a 15 pack of balls for a penny under $20.
This is another distance ball from Callaway but the compression is fairly high compression, so it works better with higher swing speeds. It's a high energy 2-piece ball that produces maximum velocity at impact. The increased distance extends throughout the golf bag. The ball just seems to stay in the air longer.
And because it doesn't sacrifice feel or control, you'll be able to hit shots with pinpoint accuracy. So if you're ready to see how far you can really hit it, give the Warbird a try. You won't be disappointed.
How It Can Help Your Game
We all know that feeling. You hit the ball and it feels like it's never going to come down. That's the Callaway Warbird. We can thank the extra large core for the massive distance.
But it's more than just distance. It's more forgiveness too. That will help if you tend to hit those high big slices. And despite the fact that this is a two piece ball, there's plenty of feel to help your short game.
But don't take our word for it, here's what everybody's saying - immense drives beyond..., best round ever, great value, they go where you hit them, feel great, perfect amount of spin... And the 5 star reviews go on.
When it comes to value, your dollar goes almost as far as this golf ball does on the tee box. So grab a pack of 15 today.
Tech Features
Two Piece Construction
Long Game Spin - Low
Short Game Spin - Low
Extra-Large Core - Lots of Distance
Hex Aerodynamics - Higher Launch, Straighter Ball
Ionomer Cover - Moderate to Faster Swing Speeds
Compression - 90
Colors - White
Comes In 15 Pack
Best Callaway Golf Ball FAQs
You love golf, but you're always struggling to find the right golf ball. Which one - which brand?
There are so many golf balls on the market, it's hard to know which one is the best for you. Should you try a Titleist ball or use a Callaway like your buddies? Which Callaway is good for average swing speeds?
We understand how confusing it can be when trying to pick out a new golf ball. That's why we've put together this list of the most frequently asked questions and answers about the Best Callaway Golf Ball. Hopefully, this will help make your decision easier!
What Callaway Ball Is Most Like Pro V1?
That would be the Callaway Chrome Soft. There's also the Chrome Soft X which is made for higher swing speeds similar to the Pro V1x. Callaway also has the Chrome Soft X LS - which has an even higher compression than the Chrome Soft X.
Which Callaway Golf Ball Is Best For Distance?
For distance in a Callaway ball, we like the Callaway E*R*C and the Callaway Warbird. We reviewed both of these in this article about the best Callaway golf ball.
For ladies, the Callaway Reva golf ball is designed for distance.
What Callaway Golf Ball Has The Most Spin?
The Callaway with the most spin is also the Callaways most popular ball on the PGA Tour, the Chrome Soft X.
What Is the Difference In The Callaway Golf Balls?
The Callaway golf balls are designed for different purposes. The  Callaway Chrome Soft is a mid compression ball meant for increased feel distance and spin. The Chrome Soft X is a harder compression ball that's designed for higher swing speeds with the most spin. There's also the Callaway Reva, a distance ball designed for ladies. And finally, the SuperSoft is the softest compression ball Callaway offers, and it's meant to maximize distance with slow swing speeds.
Do Softer Golf Balls Go Further?
This is a tricky question because many advertised distance golf balls are softer, that is they have a lower compression. The key is making sure your swing speed matches the compression of the golf ball. If you have a fast swing speed and you play a low-compression golf ball you will not maximize your distance. But for the average golfer which most of these distance balls are designed for, yes a softer ball will go further due to less spin.
What Is The Softest Callaway Golf Ball?
The softest Callaway ball and one of the softest on the market is the Callaway Supersoft golf ball.
Do Golf Balls Get Too Old To Use?
There have been no specific studies on this, but the general consensus is that if stored in a normal environment, not too cold or hot, they should last between 5 to 10 years.
Why Dont Pro Golfers Use Colored Balls?
Personal preference and tradition. There are Pros that do use colored balls. You see them more on the Senior Tour and the LPGA tour. Bubba Watson is probably one of the bigger names that has used a color ball.
What Is The Easiest Color Golf Ball To See?
The easiest golf ball to see is yellow, especially neon yellow.
What You Need To Understand About The Golf Ball?
Ball Construction
Every golf ball has a certain number of layers or pieces. These layers are comprised of rubber and plastic. There is a large core in the center surrounded by 1 to 4 additional layers. The more layers the more complex the ball construction is and the more it costs to manufacture the golf ball.
Typically value oriented golf balls have two-piece, maybe three pieces.
Premium golf balls are three-piece, four-piece, or five-piece golf balls. They are usually designed for better golfers and have more advanced features.
Spin
Spin is important when choosing a golf ball, especially as you become a better golfer. When you're hitting approach shots, especially with your high irons or wedges you ideally want the ball to spin more. High spin around the greens is what makes the ball stop quickly or even back up.
However, when you hitting your driver or even longer irons you want the golf ball to spin less. A low spinning ball off the driver means less wind resistance and more distance. Lower spinning balls also provide more forgiveness as there is less side spin. This helps players who tend to hit big slices or hooks.
Lower handicap players are always looking for the perfect golf ball - low spin off the driver and longer clubs and high short game spin.
Compression Rating
The compression of the golf ball could be one of the most important factors when choosing the right golf ball for your game. The goal is to match your swing speed with the compression rating of the golf ball.
All golf balls have a compression rating. This is a number from 30 to 120 that defines how soft or hard a golf ball is. Lower compression balls need less energy to compress the golf ball at impact. This means that a slower swing works better with lower compression balls or harder balls. A faster swing needs a higher compression ball to generate speed at impact.
Please take a look at the chart below to find out what compression golf ball you should be playing.
High Compression Rating 90 and up - Swing speeds over 105 MPH
Mid-Compression Rating 66-89 - Swing speeds between 85-104 MPH
Low Compression Rating 65-30 - Swing Speeds below 85 MPH
Cover
And last but not least there's the cover. There's your basic surlyn or ionomer cover and then there's the more premium urethane cover. Urethane is more expensive to produce and softer than Surlyn. Urethane covers are typically found on multi-layer balls that is golf balls with three pieces or more. This is often the preferred cover for better golfers as they can generate more spin and shape their shots.
Less expensive golf balls use surlyn or ionomer covers that are harder, more durable, and spin less. You find these covers on two-piece balls and often three-piece balls as well.
With technology and the evolution of the golf ball, many balls now use hybrid ionomer covers which seem to match many of the features and benefits of softer urethane covers including that soft feel. In fact, often times the average golfer can not tell the difference. There are even low handicap players that prefer hybrid covers for value and performance.
Our advice to you - experiment and see what type of cover responds better to your game.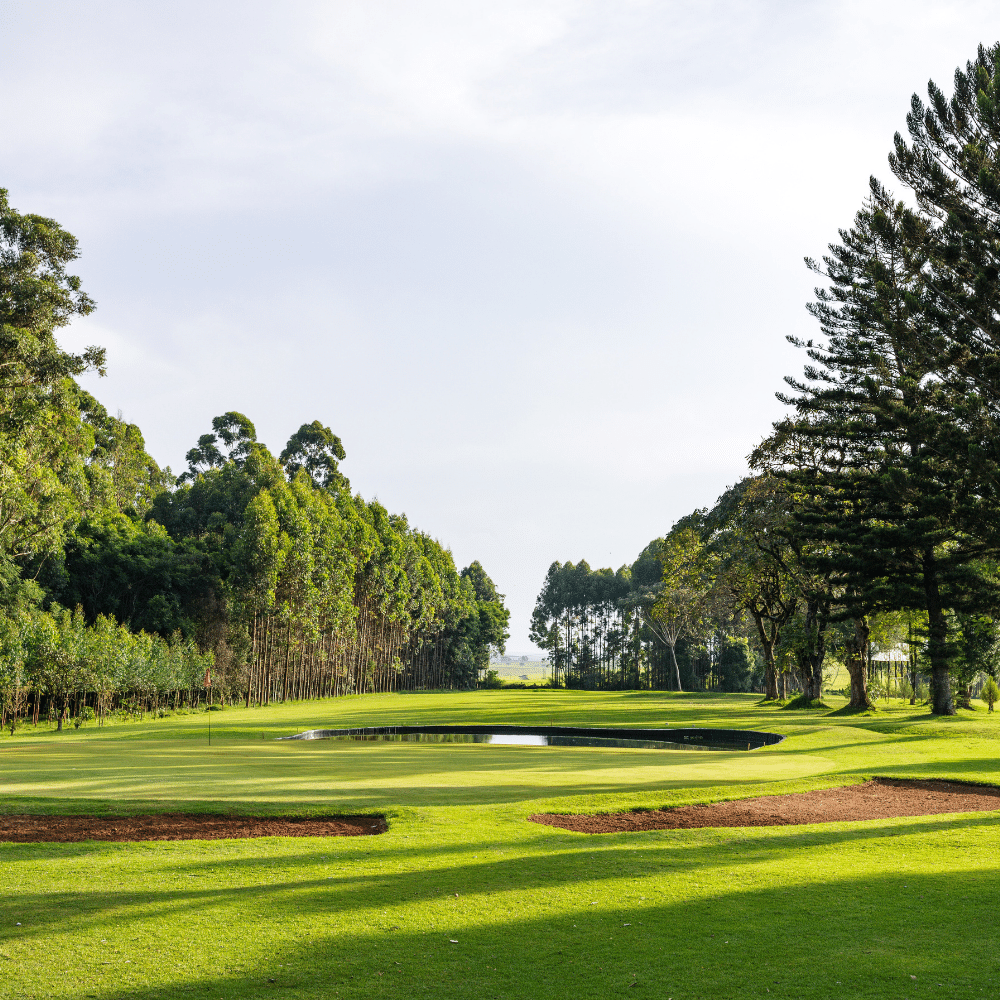 What's The Best Callaway Golf Ball For Your Game?
We hope you found this article helpful. If not, don't worry, we have plenty more where that came from. In all seriousness though, finding the best golf ball for your game can be tricky, even when you know the brand you want. With so many options on the market, it can be hard to determine which one is right for you. That's why we did all of the research for you and compiled a list of the top 5 Callaway golf balls based on verified customer reviews. So what are you waiting for? Check them out below!
Best All-Around
Best Distance
Callaway E*R*C Soft Golf Balls
Best For Low Handicappers
Callaway Chrome Soft X Golf Balls
Best Senior
Best Value
As always, thanks for visiting. We really do appreciate it.
See you on the course.
Hit 'em long and straight.
Lawrence