We only recommend products that we love and research thoroughly. We hope you love them too. All of the products we recommend have been individually selected by our editors and represent our own opinions. If you order from any of the links in this article we may get a share of the sales. Please note that prices and availability are accurate at the time this article is published.
Are you a senior golfer who has noticed your swing speed decreasing over the years?
You're not alone. As we age, our swing speeds tend to drop due to the decrease in both flexibility and muscle mass.
This is where the right golf gear can make a world of difference and lead to lower, more enjoyable rounds.
There are a lot of choices when it comes to golf balls. But how do you know what senior golf ball is best for your game?
We've compiled a list of the best golf balls for seniors so that you find the most suitable golf ball to match your golf swing.
Whether you have a slower swing speed, need a golf ball with a soft feel, want a higher ball flight or desperately want more ball speed and distance, there's something here just right for your game and your budget.
We've got plenty of options to choose from, so let's get started finding the ideal golf ball for your next round.
How We Choose The Best For You
Golf balls are designed for people with different swings. For senior players, it can be hard to know which ball is best for you.
It's tough enough playing golf, let alone trying to find the right ball. And what do all those technical terms really mean?
You don't have time to read reviews if you can understand them or do research on every ball out there. We know that you'd rather be on the golf course teeing it up than trying to find the best golf gear.
So, we've done the research for you and picked the best golf balls for seniors. Our Senior Golfer's Guide will help you choose the right ball for your game and help you get more enjoyment out of playing golf.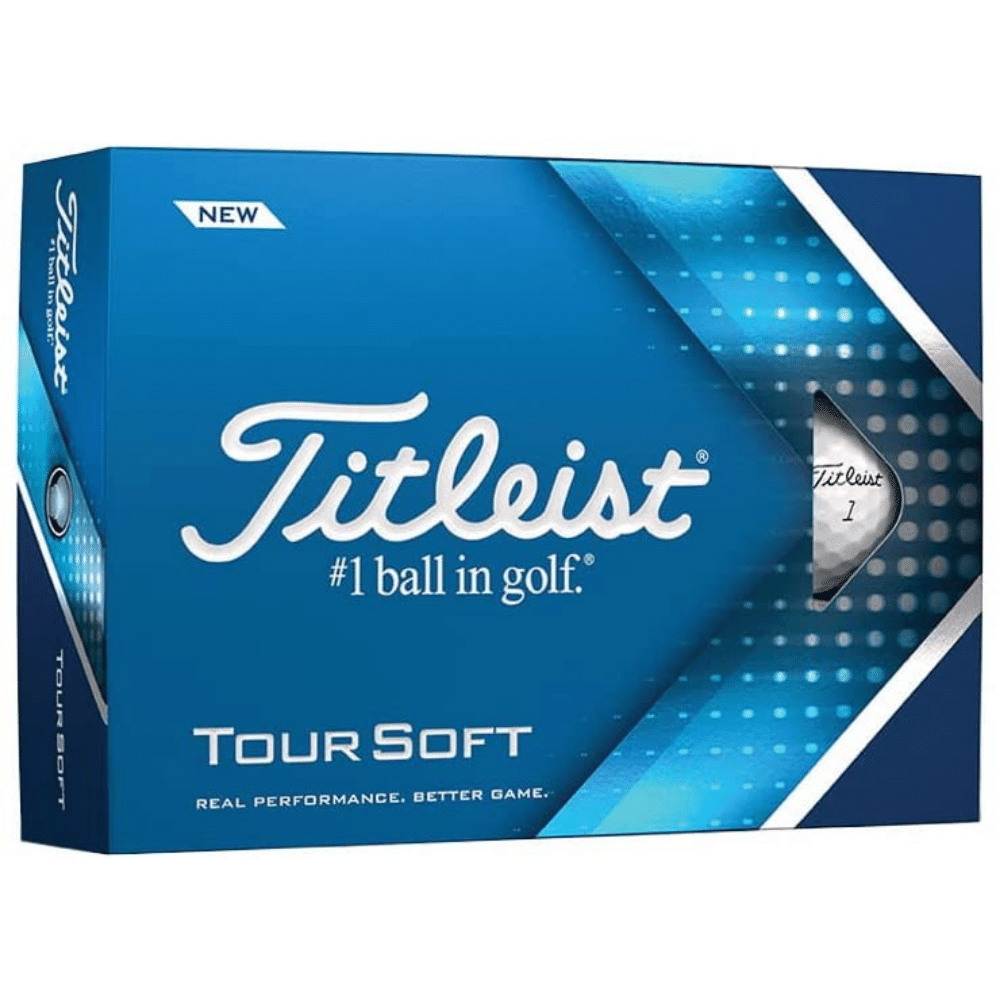 Best All-Around Senior Golf Ball
Titleist Tour Soft Golf Balls
Check Price On Amazon
Why We Love It
Looking for a high-performing golf ball that doesn't sacrifice feel? Titleist Tour Soft is the answer. This ball delivers amazing distance off the tee while still providing a soft feel with your iron and wedge shots.
And because it's a Titleist, you know it's a high-quality golf ball that delivers all-around performance. Whether you're looking to add some yards to your drive or just want a ball that feels great on every shot, Tour Soft is our best all-around senior golf ball.
How It Can Help Your Game
The new Titleist Tour Soft golf ball is designed to perform tee-to-green. It features a large, fast core, a more efficient aerodynamic dimple design, and a thin grafted cover. The result is a ball that is exceptionally long off the tee with a super soft feel.
The Tour Soft also has a softer compression for an enhanced feel, making it an excellent choice if you have a slow swing speed. We were pleasantly surprised at the consistency and control the Tour Soft delivered even for those with faster swings.
In addition, Titleist added a nice little feature: a T-shaped alignment tool to help when you're lining up your putts.
Everybody loves Titleist golf balls. And from tee to green, these are some of the best golf balls for seniors.
Tech Features
Two-piece golf ball
Long Game - Low spin
Short Game - Mid spin
Large fast core - longer distance
Surlyn ionomer cover
Compression - 65
Driver swing speed - 65-85 MPH
Colors - White, Yellow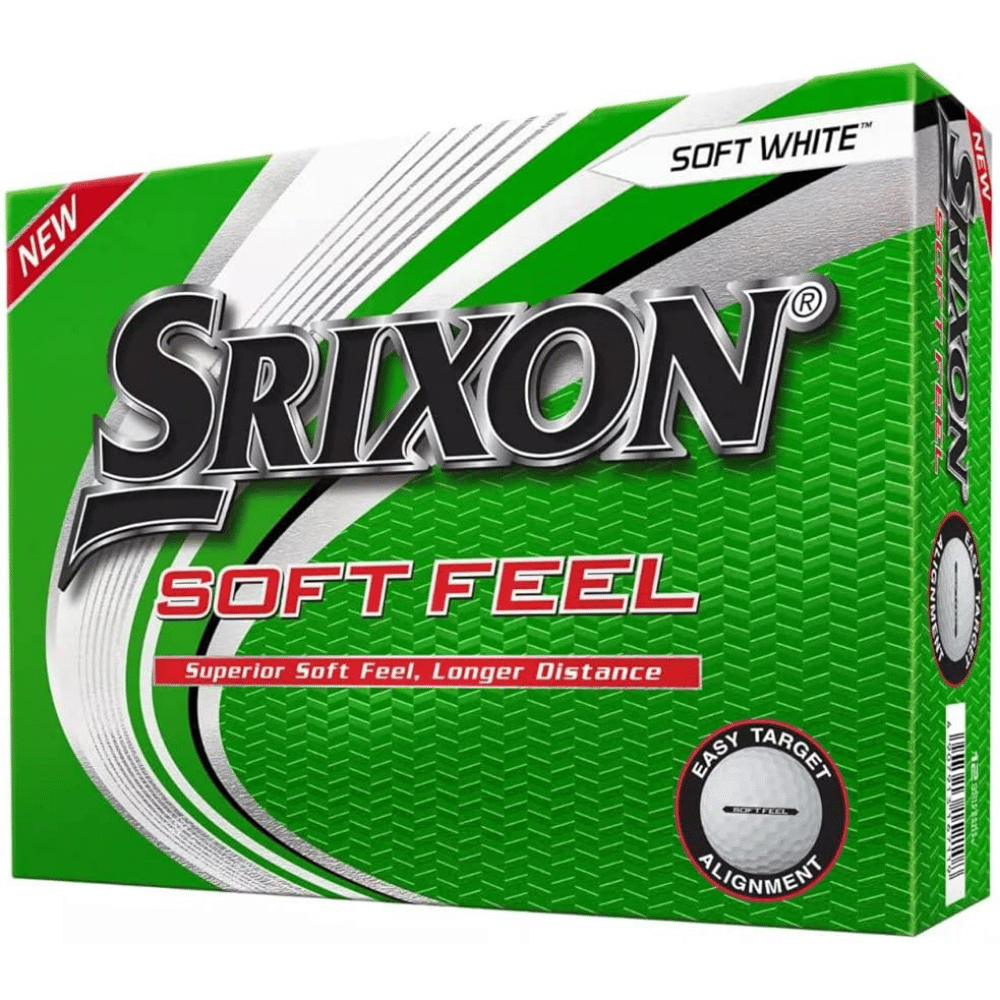 Best Value Golf Ball For Seniors
Srixon Soft Feel Golf Balls
Check Price On Amazon
Why We Love It
Srixon is a company that has long been recognized for producing some of the best golf balls at an inexpensive price. The Srixon Soft Feel has remained at the top of the list for best-value golf balls.
If you're a senior or you have a slower swing speed, then this ball does it all - distance, feel, control, maybe even a stroke or two off your game.
It's now in its 12th generation. You can't go wrong with a golf ball costing less than $2.
How It Can Help Your Game
The Srixon Soft Feel combines distance, accuracy, and control for seniors with a slow swing speed. A proprietary 340 Speed D dimple pattern helps reduce drag to launch your shots higher with greater ball speeds, while a soft thin ionomer cover provides excellent feel around the greens.
Srixon's most popular ball is also one of the best low spin balls when it comes to value. It's perfect for seniors with slower swing speeds.
The low compression core provides excellent carry distance, and provides just the right amount of spin on the greens. You'll love the soft feel and the way this ball performs. It's a great choice for seniors who are looking for phenomenal value.
If you have a medium swing speed or your swing is under 100 MPH, this is a great choice. For slow swing speeds of 70MPH - 80 MPH, this is even a better ball.
It's the perfect low compression golf ball for senior players who want excellent carry distance and just the right amount of spin on the greens.
Tech Features
Two piece construction
Long Game - Low spin
Short Game - Low spin
FastLayer Core - transitions from soft to firmer creating a rebound effect for greater distance.
338 Speed Dimple Pattern - reduced drag, higher launch, longer distance
Soft Thin Ionomer cover
Compression - 60
Colors - Soft White, Tour Yellow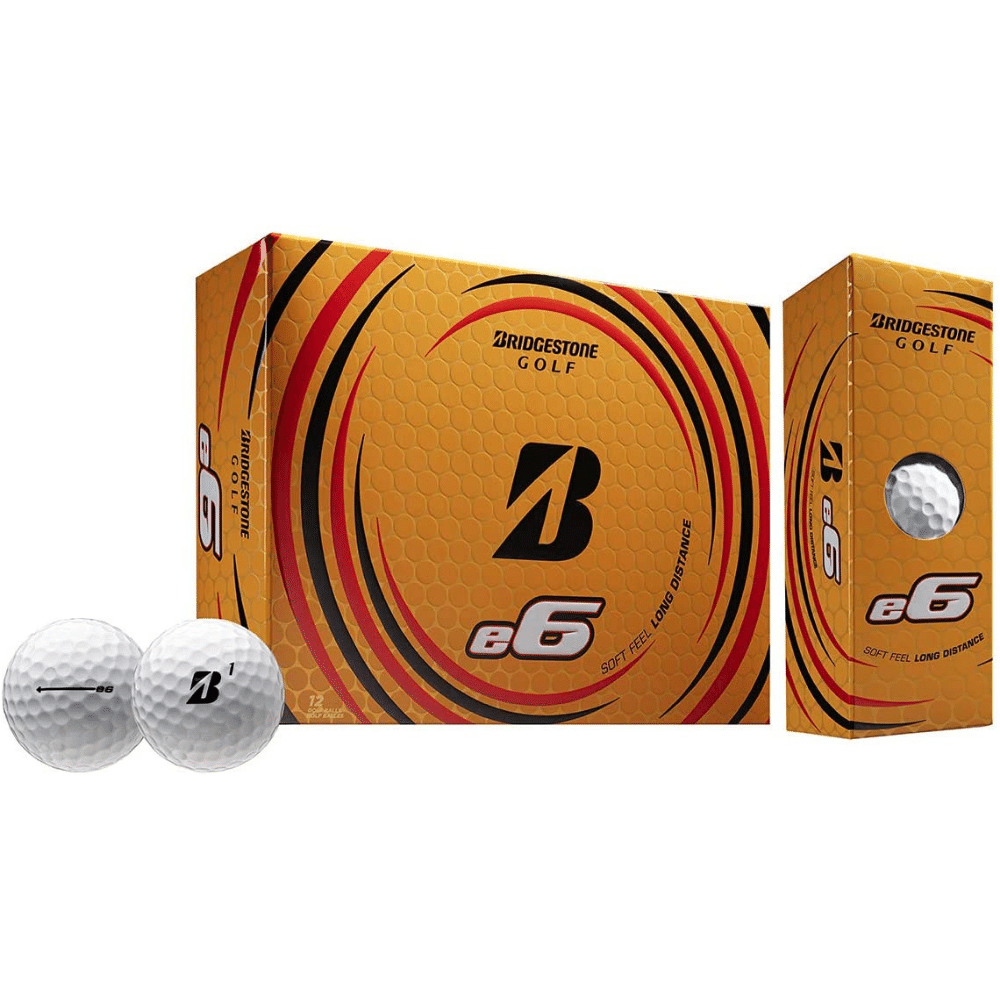 Best Senior Golf Ball For Slower Swings
Bridgestone e6 Golf Balls
Check Price On Amazon
Why We Love It
The e6 has been around for over 15 years and it is still one of Bridgestones' top-selling golf balls. It's a beautiful example of good value.
The e6 combines the best of both worlds - distance and feel. Seniors will love the extra distance they get but they'll probably benefit more from the sturdy cover and the greenside spin they are able to generate.
The low compression core is designed for slow to moderate swing speeds - perfect for seniors
Bridgestone doesn't compromise when it comes to research and innovation. The e6 is a testament to this, competing against golf balls well above its price point.
How It Can Help Your Game
The e6 has been redesigned with a larger, softer core that is easier to compress. The result is more ball speed and one of Bridgestones longest balls.
The Bridgestone e6 is built for senior golfers with slow to moderate swing speeds seeking to maximize distance on all shots. The new 2-piece construction and low compression core create higher ball speeds while still maintaining a soft feel.
This ball just seems to go straight. It's one of the most forgiving golf balls on the market. So if you find yourself playing in the wind, this is a great ball to play.
If you're looking for a golf ball to improve your game, the e6 is a great option to consider.
Tech Features
Two piece construction
Long Game - Low spin
Short Game - Low spin
Redesigned Larger And Softer Core - Easier to compress for increased distance
Surlyn cover
Best For Swing Speeds Under 100 MPH  - moderate swing speeds
Compression - 50
Colors - white, yellow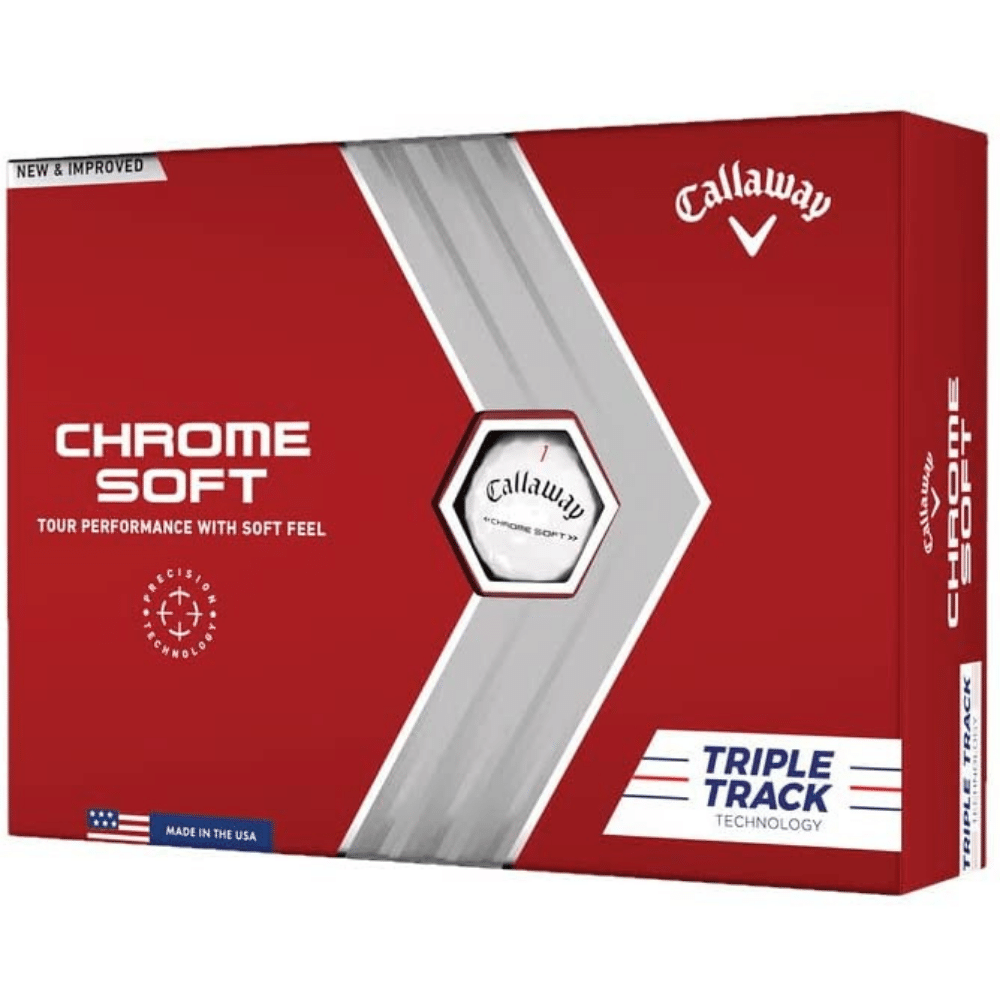 Best Senior Golf Ball For Low-Mid Handicappers
Callaway Chrome Soft Golf Balls
Check Price On Amazon
Why We Love It
The beauty of this ball is that it is built for everyone from beginners to pros. However, better golfers with lower handicaps will benefit the most. These golf balls are designed to provide extra distance with the soft feel that senior golfers love.
With the help of Callaway's proprietary new precision technology, the Chrome Soft provides both softness and speed. You'll notice improved distance and speed on all clubs in the bag, while still maintaining that signature soft feel that Callaway is known for.
Callaway's Chrome Soft X is the second most popular ball on the PGA Tour. It's basically a Callaway Chrome Soft made for higher swing speeds.
How It Can Help Your Game
The promise of feel, control and distance - this is what every golfer at every level is after. Callaway's Chrome Soft over-delivers on that promise. This is why golfers of all levels will benefit from playing this ball, as long as your swing speed is not too slow to compress the ball.
Better seniors rejoice. From the new hyper elastic soft core to the millions of dollars Callaway has spent on innovative technology and manufacturing, comes the perfect ball for senior golfers. This is a golf ball all about speed, more spin, and better control.
Seniors will be delighted with the feel of the golf ball. This is Callaway's softest ball and softer than most balls on the tour. Seniors with lower handicaps will generate plenty of spin around the green.
When it comes to the long game, less spin will provide the distance seniors always seem to be searching for. The Tour Aero Design pattern provides improved aerodynamics for a more forgiving ball that the better senior can still control.
If you're a senior and a more advanced golfer looking for the perfect all-around ball to shave a couple of strokes off your game, then this is your ball.
Tech Features
Three piece golf ball
Long Game - Low spin
Short Game - High spin
Hyper Elastic SoftFast Core- newly designed for faster speeds, more control and the softest of feels
Pattern - Hex tour aero design for better aerodynamics
Ultra soft urethane cover
Compression - 70
Colors - white, yellow, white with Triple Track alignment, yellow with Triple Track, alignment, Truvis White/Red and Truvis Yellow/Black.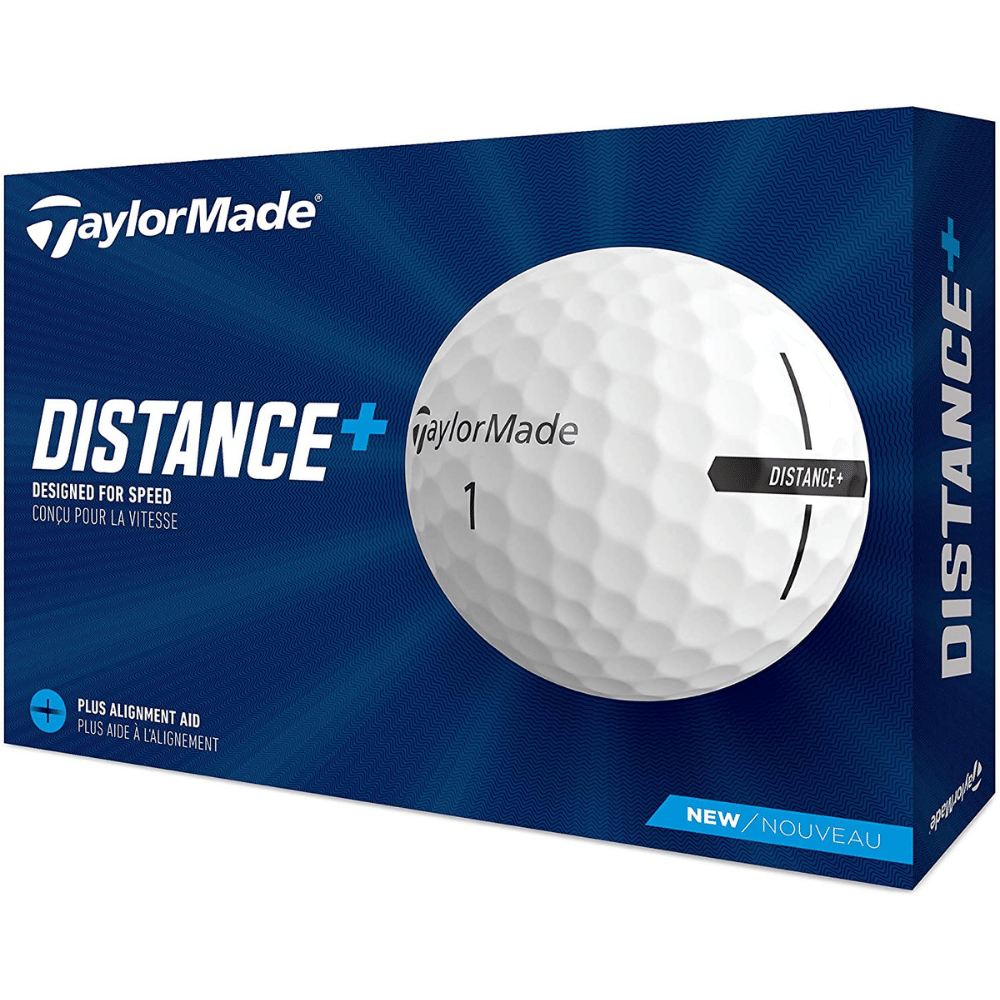 Best Senior Golf Ball For Distance
TaylorMade Distance+ Golf Balls
Check Price On Amazon
Why We Love It
These are great golf balls for seniors looking for distance, distance, and more distance. The new TaylorMade Distance+ Golf Balls are designed to help you hit the fairway more often and add distance to your shots.
With an innovative new core and cover design, this high-performance ball provides more speed and distance on longer shots while still maintaining an excellent feel on approach shots. This makes it the perfect choice for seniors who want to improve their game and hit the ball further than ever before.
And did we tell you how affordable it is?
How It Can Help Your Game
If you're looking for a golf ball designed for speed then look no further. The Distance+ boasts a REACT Core allowing for easy compression. The 342 dimple pattern provides better aerodynamics and reduced drag for a straighter ball flight. This beautiful combination translates into a two-piece golf ball that delivers more ball speed with noticeable distance gains throughout your bag.
These golf balls have a soft ionomer cover that increases greenside feel and provides more short game spin. However, even with a soft cover, these are durable balls that will not fall apart or scuff too easily.
But remember these balls are all about distance and a straight ball flight so you will not have the same feel as a premium, multi-layered golf ball.
If you're a senior dreaming of driving it past your weekly foursome without swinging out of your shoes then start playing the TaylorMade Distance+ ball today. It's a lethal combination of incredible distance and value.
Tech Features
Two piece construction
Long Game - Low spin
Short Game - Mid spin
REACT Core - designed for speed and distance with a durable cover more resistant to scuffs
342 aerodynamic dimple pattern - reduced drag, longer distance
Soft Ionomer cover
Compression - 77
Colors - Soft White, Tour Yellow
Best Golf Balls For Seniors FAQ's
Senior golfers know that choosing the right golf ball is important, but how do you choose one? And does it match your game?
There are a lot of different golf balls on the market, a lot of technical terms and so many different reviews. This can make it very difficult to figure out what are the best senior golf balls. Are you looking for affordable golf balls? Are you a low handicapper looking for a soft golf ball that has more feel? Or maybe you've lost some swing speed from your earlier days and desperately want more distance to keep up with your younger playing partners? If you have a high handicap should you be playing a two piece ball or maybe a three-piece golf ball?
No need to worry, we've created a comprehensive buyers guide of frequently asked questions to help you choose the best golf balls for seniors. In this senior golfer's guide, you will learn what features and benefits to look for when choosing the best golf balls. And you will begin to understand how to best match your game and your swing speed with the perfect golf ball.
What Type of Golf Ball Should a Senior Use?
There are a few things to consider when choosing the best golf balls for seniors. First, you'll most likely want to use a two or three piece golf ball. These types of balls will provide greater distance and more forgiveness making sure your ball is in play and farther down the fairway.
Seniors with slower swing speeds will be better off with a low compression, two piece ball with a soft feel. This will generate more speed with increased distance.
If you have a lower handicap and swing faster than the average senior then you will benefit from a more premium golf ball with a higher compression. This could be a three piece ball or a multi-layered ball that generates more spin.
Are Volvik Golf Balls Good For Seniors?
Volvik has a line of golf balls that would work well for the average senior golfer. Make sure you a pick a low to mid-compression ball if your swing speed is between 70 - 100 MPH.
The Volvik Vivid would be a good choice. It's a three-piece ball providing low driver spin and a higher launch for maximum distance with the greenside spin you need for your wedges.
What Golf Ball Should I Use With a 80 MPH Swing Speed?
If you're swing speed is 80 MPH then you should be playing a lower compression golf ball to match your golf swing. Low compression golf balls are softer balls that compress with less energy. This is ideal for a slower swing as it will help you launch the ball higher, farther and with less side spin.
Two of our best balls for seniors would be an excellent choice for an 80 MPH swing - the Srixon Soft Feel and the Bridgestone e6.
Do Softer Balls Go Straighter?
Softer golf balls will go farther and straighter for golfers with slow swing speeds. And they also tend to feel better around the greens. If you're not sure what compression rating you need, a good rule of thumb is to look for a ball that is labeled "low compression" or "soft."
As for spin, less spin will mean straighter shots. So again, look for a ball that is labeled "low spin" or "straight." Keep in mind that every golfer is different, so it's best to experiment with a few different types of golf balls to see what works best for you.
Do Expensive Balls Make a Difference?
Yes, expensive or premium balls can make a big difference for the better golfer. However, this is a golfer who has a strong understanding of his game, his strengths and weaknesses, his ball flight on mishits, and his swing speed. Multi-layer or premium balls provide better golfers with more feel, greenside spin and the ability to shape their shots.
However, for the beginner or high handicapper, the features of a premium ball may provide little to no benefit. If you have trouble generating speed and need more length then a simple two-piece, softer ball will perform much better than a premium high spin ball.
How Far Should an 80 Year Old Hit a Golf Ball?
Every 80-year-old is different. As you age, your body changes, and muscles don't work as efficiently as they once did. This includes the muscles used in swinging a golf club. As a result, most senior golfers see their swing speed decrease. Based on this information, an 80-year-old would hit the ball anywhere from 160 - 200 yards.
However, there are seniors with higher swing speeds. And we know that higher swing speeds should generate increased distance. So, if you've maintained flexibility in your later years and can still generate decent clubhead speed then 200-220 yards could be a good benchmark.
What is The Average Swing Speed For a 65-Year-Old Golfer?
This is a difficult one to answer as it depends on several factors. What is your level of play? How fit or flexible are you? However, you should be able to group most in the 70 - 90 MPH range with an average being approximately 80 MPH.
Do Soft Golf Balls Go Further?
The great thing about using softer golf balls is that they require less clubhead speed to compress them. This means if you have a slower swing speed, it will take less effort on your part to compress the ball. So, softer balls should go further and would be a good choice for senior golfers.
Is Pro V1 a Good Ball For Seniors?
Titleist's Pro V1 golf ball is one of the most popular on the market for a reason: it simply performs. It's a higher compression ball, which is ideal for faster swing speeds, and it yields longer distances as a result. But that's not all; the Pro V1 also provides more greenside spin than other Titleist models, making it easier to stick approach shots close.
It's no wonder that this ball is a favorite among low to mid-handicappers. So for senior golfers with a lower handicap and a faster swing, looking for tour-level performance in a golf ball, it's hard to do better than the Titleist Pro V1.
Do Golf Balls Lose Distance With Use?
Today's golf balls are much more durable than in years past. You can use the same golf ball for several rounds with no discernable drop in performance assuming there is no damage to the ball, especially the cover. However, if the cover has scuff marks then distance and performance can be compromised. You can lose as much as 6 yards with a scuffed or damaged ball.
Are Soft Golf Balls Better For Seniors?
If we assume that most seniors have slower swing speeds then it would be safe to say that soft golf balls are the best golf balls for seniors. The reason for this has to do with the lower compression rating of a soft ball. With a softer ball, it will take less club speed to compress the ball. This will help senior golfers generate the distance they need off the tee.
The combination of a low swing speed and lower compression balls produce a more consistent ball flight with reduced spin. For senior golfers, this equates to better distance off the tee and with the longer clubs in the bag.
However, we know that not all senior golf balls and swings are created equally. Many senior golfers with a faster swing may lose distance playing a ball that is too soft or they may prefer high spin golf balls.
What You Need To Understand About The Golf Ball?
Ball Construction
A golf ball is made up of plastic and rubber. It can have anywhere from two to five layers.
Senior golfers can benefit from using a two or three-piece golf ball. These types of balls are designed to maximize distance, so you can still enjoy the game even if your swing isn't as fast as it used to be. In addition, two or three-piece golf balls are more likely to stay in play, making the game more enjoyable for everyone involved. So if you're a senior golfer looking for the best possible experience, be sure to use a two or three-piece golf ball.
Spin
When it comes to choosing the best golf ball for seniors, it's important to take spin into account. For seniors, a low-spinning golf ball is often the best option especially when it comes to long game spin. Lower spin golf balls will have less side spin and more forgiveness on off-center hits resulting in straighter, longer drives. However, when it comes to your short game more spin is generally better.
Ultimately, the best golf ball for seniors will depend on their individual swing speed and desired shot shape.
Compression Rating
When it comes to choosing the best golf ball for seniors, compression rating is an important consideration. A high-compression ball needs more energy for an optimal strike, while a low-compression ball needs less. That's why seniors and golfers with slower swings should consider low-compression balls. They won't have to generate as much energy with their swings to compress the ball. As a result, they'll likely get greater distance and more accuracy.
Of course, it's always best to try out different types of golf balls to see which ones work best for your game. But if you're looking for a good place to start, low-compression balls are a great option especially if you have a slower swing speed.
Cover
When it comes to golf ball covers there are basically two types.  There is urethane, and then there is ionomer or surlyn. You may be wondering what the difference is? What does this mean for my game? How can it help me on the golf course? And, should senior players stick with one type of cover?
Let's start with surlyn and/or ionomer. Surlyn is a type of ionomer created by the chemical company Dupont. For the purposes of this article, we are going to use the terms interchangeably.
Surlyn covers are less expensive and cheaper to produce than Urethane. The material doesn't stand up to the elements as well as urethane and as a result, is a harder surface. This firmer cover is great for durability and reducing spin. This makes it a great ball for beginners, high handicappers and players chasing distance. With less spin it can be a more forgiving ball. Typically ionomer balls are two-piece balls.
Urethane covers are softer and more expensive to produce. Premium golf balls use a urethane cover. For the better golfer this means extra spin around the greens, the ability to control distance, shape shots and better feel on puts and chips.
However, with technology, golf ball manufacturers have been able to blur the line when it comes to the feel of a soft ionomer ball vs. a soft urethane ball. This means that for the average golfer an ionomer ball will still have a soft feel around the greens. But the lower handicap golfer with a faster swing may not be able to generate as much spin on his approach shots, so he would prefer a urethane cover.
What's The Perfect Golf Ball For Your Game?
We've researched and compared thousands of verified customer reviews to find the best golf balls for seniors. We understand that every golfers needs are different, so we've compiled a list of top-ranked balls that will benefit senior golfers based on what's most helpful to improving their game.
If you're looking for more distance or a more penetrating ball flight, we've got you covered. If you're a high handicapper or a low handicapper, we've got the ball for you.  Maybe you're looking for a softer feeling golf ball or maybe you want it all. Then check out our best all-around golf ball - it's definitely one of the best golf balls for seniors.
We hope you find this information useful and that you're on your way to hitting more greens in regulation and posting lower scores.
Click the gold buttons above to check the prices on Amazon and find the best senior ball to complement your game.
Thanks for visiting - Let's make buying golf balls easy
Hit 'em long and straight!
Lawrence