We only recommend products that we love and research thoroughly. We hope you love them too. If you order from any of the links in this article we may get a share of the sales. Please note that prices and availability are accurate at the time this article is published.
Do your hands get sweaty when you're playing golf?
If so, you're not alone. Many golfers struggle with this issue. In this article, we will discuss the best golf grips for sweaty hands. We will also show you why choosing the right grips can improve your shot-making and help you gain more control over the clubface.
Many golfers underestimate the importance of the golf grip. However, choosing the right grip is essential if you want to improve your game. With the right grip, you'll have more control over your club and greater confidence to make the perfect swing.
So don't sweat it - read on for the best golf grips for sweaty hands!
How We Choose The Best Golf Grips For Sweaty Hands
It's summertime, it's hot and it's humid and your hands are starting to sweat a lot. This makes it difficult to hold onto the golf club and can lead to poor shots.
Golfers know that having a comfortable grip on the club is essential for a good swing, but for some golfers, sweaty hands can be a real problem. It can be frustrating to try and find a golf grip that works well for you. You might have even tried using tape or powder in an attempt to keep your grip dry, but neither of those solutions seems to work very well. And the last thing you want to do is mishit another shot.
We've got good news - there is a better way! The best grips for sweaty hands are those that are made from a moisture-wicking material.
And more good news - to make things easy for you, we've read through thousands of reviews to create this definitive guide that will help you choose the best golf grips for sweaty hands. These grips will help to keep your hands dry and comfortable all day long so you can focus on lowering your score.
So, let's get started. Check out our top picks now!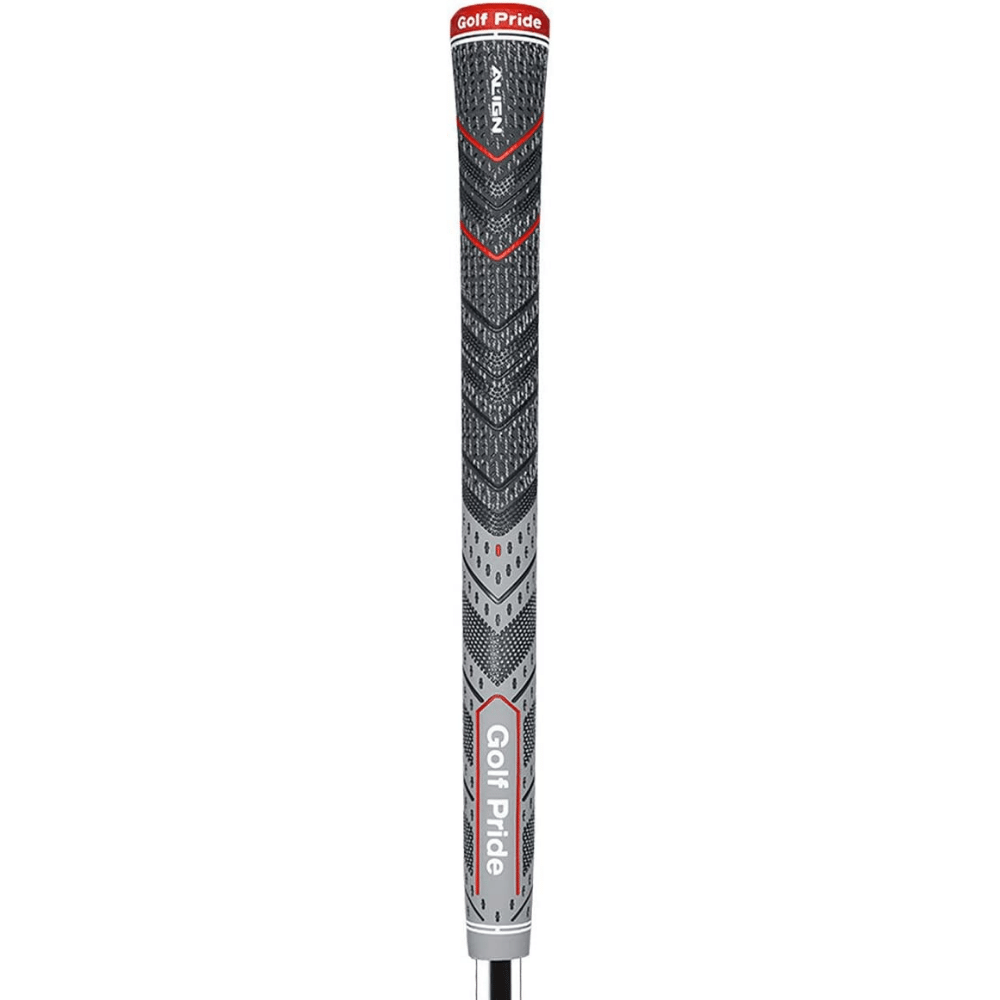 Best Hybrid Golf Grip For Sweaty Hands
Golf Pride MCC Plus4 Align Golf Grips
Check Price On Amazon
Why We Love It
Golf Pride is the most popular golf grip on the PGA tour boasting a market share of over 80%. If that isn't enough validation for you how about the fact that none of the PGA players using Golf Pride grips get paid to play them.
This is a hybrid grip meaning the top portion or upper hand is a cord grip and the bottom portion is rubber. The brushed cotton fibers at the top of the grip helps to repel moisture making this an excellent all-weather grip for sweaty hands and humid conditions.
This grip also features Golf Prides align technology which promotes consistent hand placement and a square clubface. This is achieved through a raised ridge and allows you to have a better feel of the position of the clubface.
How It Can Help Your Game
The technology behind the Golf Pride MCC Plus4 Align combines the best of two worlds: moisture-wicking absorption for better traction and hold at the top of the grip and a soft rubber material for comfort and control with your lower hand.
Thanks to the inspiration of tour professionals the lower portion of the grip is a larger design that feels like four layers of tape have been added to the grip. Hence the name Plus4. This promotes a softer feel with the lighter grip pressure creating a more powerful swing.
If you're ready to stop battling the elements and are looking for the best golf grip for your sweaty hands then check out the Golf Pride MCC. It's all about technology and performance.
Additional Features You Should Know
Style - Hybrid, Half cord grip style
Grip Size -Standard, Midsize
Colors - Grey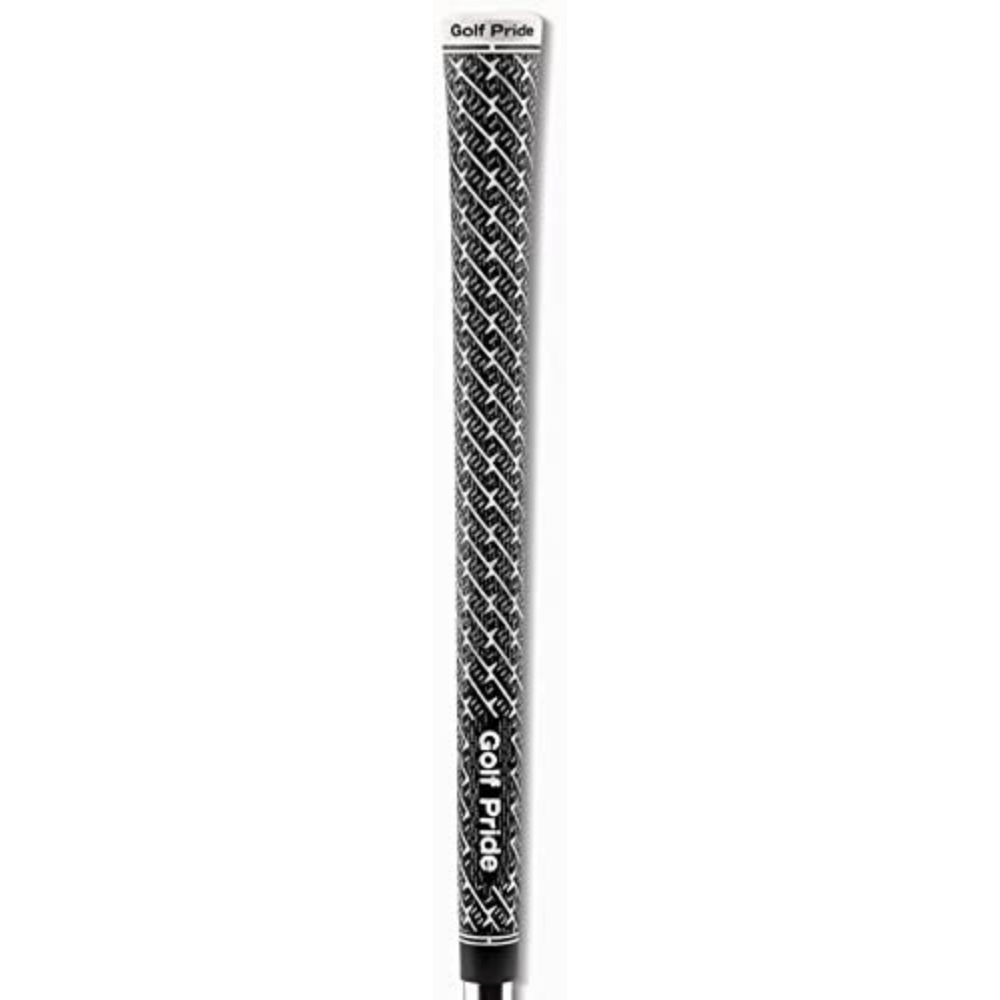 Best Full Cord Golf Grip For Sweaty Hands
Golf Pride Z Cord Golf Grips
Check Price On Amazon
Why We Love It
Golf Pride claims that this is one of the most popular grips on the PGA tour and also their firmest. It has a distinct look that is immediately recognizable thanks to the Z-shaped pattern.
If you prefer firm grips and you're looking for the tacky feel of cord grips then you'll love the responsiveness of this grip. It provides excellent feedback allowing you to feel each and every shot. Just don't expect it to absorb shock on your mishits.
This grip holds up unbelievably well in humid, even wet conditions. It's a full corded grip with the brushed cotton weave providing very good moisture management. This is a great grip for all-weather performance.
If your sweaty palms need a tacky grip then this is one of the best-corded grips you can buy.
How It Can Help Your Game
Full cord grips are the grip of choice if you find yourself playing in humid conditions or wet weather. This full cord golf grip has superb traction even for those sweaty palms.
The Z golf grip has two layers of texturing for feedback and control. The first layer is the Z-shaped rubber texture. This goes around the grip vertically for control. The second layer is the cotton fibers that are weaved throughout the grip providing the tacky feel and repelling moisture. The end result is a better golf grip for sweaty hands.
If you're a player who responds better to feel knowing when you've struck an iron perfectly, then this is an excellent grip that can immediately help your game. Your hands will tell you whether you've hit the sweet spot and made solid contact. Other grips will not be able to compete with this Golf Pride grip if your game is all about feel.
Additional Features You Should Know
Style - Full cord grip style
Firmness - Hard
Grip Size -Standard, Midsize
Colors - Black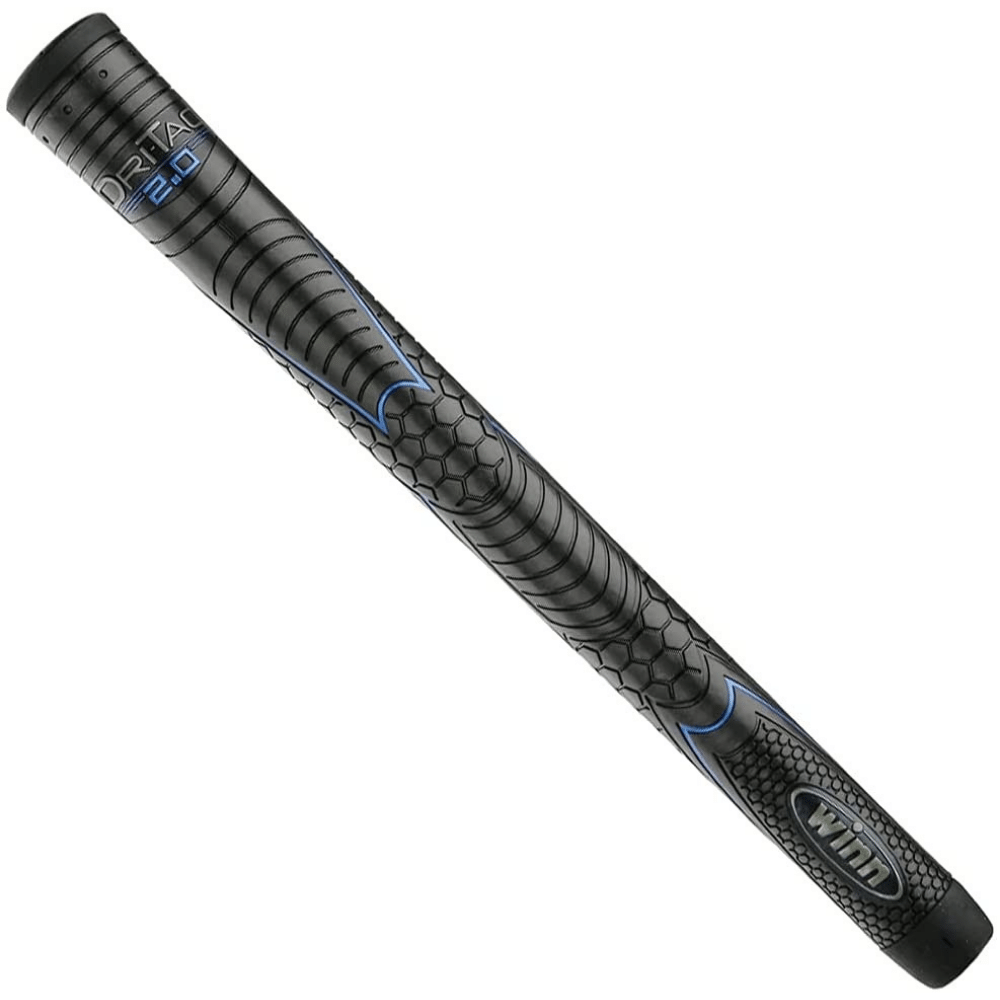 Best Polymer Golf Grip For Sweaty Hands
Winn Dri-Tac 2.0 Golf Grips
Check Price On Amazon
Why We Love It
Looking for new golf grips that will up your game? Check out Winn Dri-Tac 2.0 golf grips – the perfect blend of comfort and performance made for players with sweaty hands.
Winn was the first brand to introduce polymer construction to golf grips, and they continue to be a leader in the industry thanks to their innovative products. Their Dri-Tac grips are designed to provide a slip-resistant grip in all conditions, making them some of the best golf grips for sweaty hands.
What sets Winn apart from golf grip manufacturers is their commitment to comfort – their grips are designed to reduce hand fatigue so you can play your best round of golf. And because they're made from high-quality materials, you can trust that they'll withstand even the most intense weather conditions.
The Dri-Tac 2.0 is the latest generation in the Dri-Tac family. It was released in 2021. Golfers report better feel, increased accuracy, maximum control, and greater durability.
How It Can Help Your Game
Winn's patented polymer technology is the perfect solution if you're looking for grips in between a firmer full cord grip and a softer half cord grip. On the firmness scale, this falls in the middle so it offers high shock absorption and a soft feel.
A driving force behind Winn's innovation is reducing hand fatigue with their cushioned comfort, allowing for more enjoyable play on the golf course. This promotes lower grip pressure and improves control and accuracy thanks to a better feel of the clubface. You may even notice an increase in distance with these soft grips.
The 2.0 features a traditional tapered profile found in most grips.
This is a superior grip that will stand up well in humid and wetter conditions. It's definitely one of the best golf grips for sweaty hands.
Additional Features You Should Know
Style - Polymer grip
Firmness - Medium
Grip Size -Standard, Midsize, Oversize
Colors - Jet Black
Best Golf Grips For Sweaty Hands FAQ's
Golfers with sweaty hands often have a hard time finding grips that work well for them.
It's tough playing golf when your hands are slippery and you can't get a good grip on the club.
No worries, we've done all the work for you, spending hours researching the most relevant questions about the best golf grips for sweaty hands. Our team of experts have come up with the most factual answers so that you can make an informed decision about which golf grip is going to help you the most.
We've also added a buyer's guide of golf grip essentials to make buying your next golf grips super easy.
What Golf Grip Is Best For Sweaty Hands?
Look for grips that are tacky and have some type of moisture-wicking material to help you maintain control of the club. We've recommended Golf Pride MCC Plus4 Align and Golf Pride Z grips. We also like the Winn Dri-Tac 2.0 Golf Grips.
How Do I Stop My Hands From Sweating When I Play Golf?
First, check to see if your grips are too smooth. Maybe they need replacing. Having several golf gloves and towels can help for a better grip too. You can try powders or even sawdust.
Is There An Advantage To Thicker Golf Grips?
Yes, there can be an advantage to thick golf grips. They provide more comfort and stability in your hands, which can lead to more consistent shots. They can also help to reduce vibrational feedback from the club head, improving feel and reducing hand fatigue. If you have larger hands or longer fingers, a thick larger grip may also be a good choice for you and help to relieve grip pressure.
Ultimately, it comes down to personal preference – some golfers prefer the feel of thinner smaller grips while others find that thicker grips help them perform their best and not grip hard. Experiment with different options to see what works best for you.
What Are The 3 Main Types Of Golf Club Grips?
There are three main types of grips commonly used on golf clubs: the standard grip, the interlocking grip, and the overlap grip. The overlap grip is the most common and considered a traditional golf grip.
If you're referring to actual golf grips on the golf clubs, there are hybrid grips, full cord grips, wrap grips, leather grips, and polymer or rubber grips
Who Should Use Midsize Golf Grips?
If you wear a golf glove in a large size a midsize grip would work well. Also, if your hand measured from the top of your middle finger to the wrist is 7.6 inches - 9 inches, midsize grips would work well.
Why Does Bryson DeChambeau Use Larger Grips?
Bryson began rising a Jumbo grip when he was a junior. He liked the larger oversized putter grip because there was more area on the grip for him to hold the club with.
Do Any Pros Use Jumbo Grips?
Bryson DeChambeau and KJ Choi are two that come to mind.
Do Any Pros Use Winn Grips?
Most pros use Golf Pride grips. We can't think of any using Winn grips other than maybe on the putter grip. But we're not 100% sure.
What Is The Most Popular Golf Grip?
The Golf Pride Tour Velvet is the #1 grip on the PGA Tour.
Golf Grip Essentials You Need To Understand
Size
Choosing a grip that is the right size is critical. In simple terms, the grip represents the only part of the golf club that you feel or actually touch so how it fits in your hands makes all the difference.
If you play a grip that is too small, your hands will be too active, making it difficult to control where the ball goes. On the flip side, if you're playing with a golf grip that is too large, then you will have limited hand motion and difficulty releasing the golf club. So you need a grip that fits comfortably in your hands and is the right size for your hands.
Let's look at the best two ways to find the right size grip for you. First, we'll look at your glove size:
Small Glove Size - Undersize grip
Medium Glove Size - Standard grip
Large Glove Size - Midsize grip
XL - 2XL Glove Size - Jumbo grip
The second way is to measure your hand from the crease of your wrist to the top of your middle finger:
5 Inches to 6.5 Inches - Undersize Grips
6.6 Inches to 7.5 Inches - Standard Grips
7.6 Inches to 9 inches - Midsize grips
9.1 Inches + - Jumbo Grips
Style
Let's look at the three primary types of golf grips.
Polymer grips or rubber grips are better for golfers looking for a soft feel and higher shock absorption. These types of grips are made for golfers who prefer comfort over the ability to work the ball. Wrap grips can also fall into this category.
If you tend to have sweaty hands make sure the grip's rubber material has the right amount of tackiness.
Half cord grips or hybrid grips are becoming much more popular. They feature a top corded end, cotton fibers interwoven over rubber with a smooth rubber bottom end. This combines the best of two worlds. The top corded portion of the grip is all impact and traction while the sometimes larger bottom is all about smooth rubber, comfort, and feel.
With the right tackiness and moisture-wicking capabilities, these can be great grips for the sweaty golfer.
Full cord grips are corded grips from top to bottom. These are typically the firmest of all grip types and favor the golfer who prefers to feel the ball leave his golf club. He wants instant feedback coming from his hands. If you're a beginner who sculls a lot of shots this may not be a good grip for you due to the lack of shock absorption.
This too can be an excellent choice for the sweaty golfer or anyone playing in wet humid conditions.
Grip Care, Tackiness and Feel
Your grip is exposed to the elements - sweat, dirt, sand, grease, and more. If you don't keep them clean they will lose their tackiness and traction quickly. If you tend to sweat it's no fun trying to hold on to a super smooth grip that just wants to fly out of your hands. All you need is water, soap, a brush, and a clean towel to keep your grip clean and maintain its tackiness.
How grips feel and the degree of tackiness are going to be important factors in helping you pick the right grip for your game. If you want more shock absorption then you are better off with a softer golf grip. However, if you like to really feel the club making impact with the ball and don't mind the vibrations coming off of mishits then a firmer grip is best for you.
If your hands tend to sweat a lot then a tacky grip is a must. This will allow your hands to be more relaxed and comfortable, producing a more confident swing. If you have a fast swing tacky grips will help make sure that you don't grip the club too hard.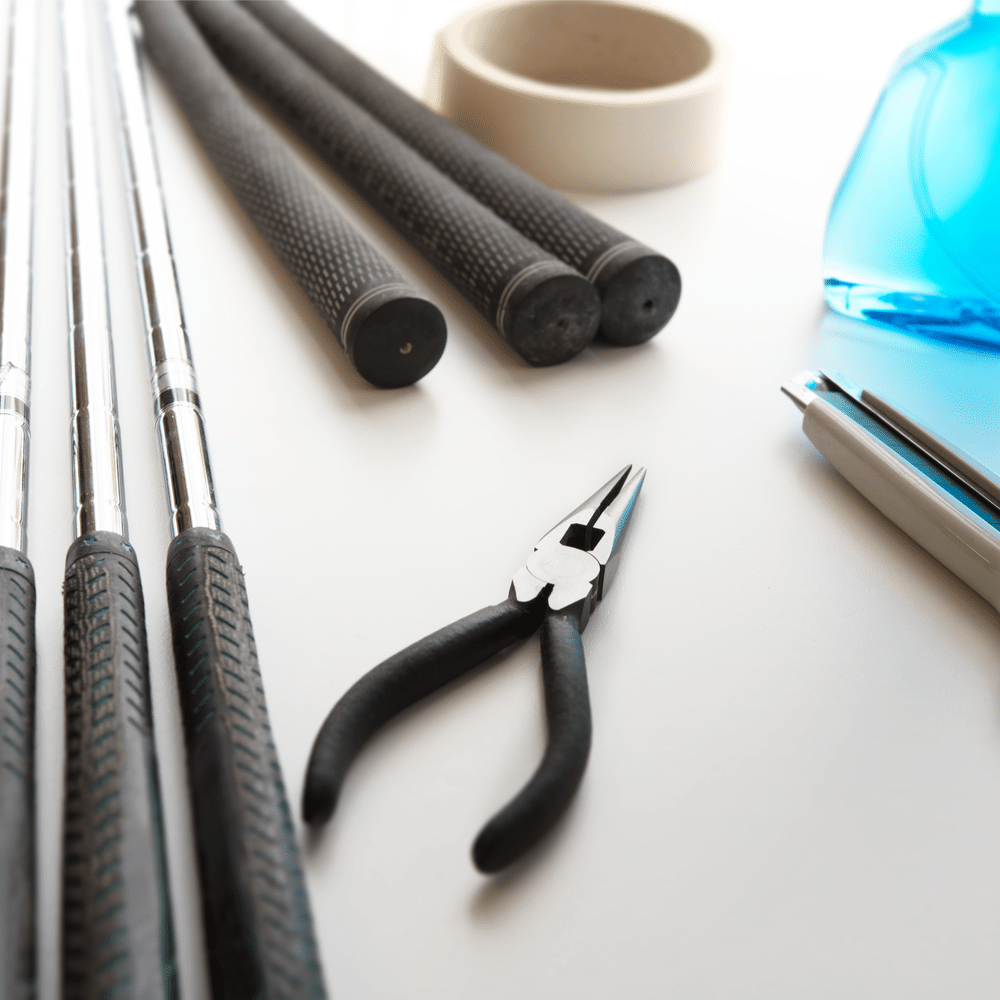 What Are The Best Golf Grips For Sweaty Hands?
After a lot of hard work, time and research, we've come up with a list of the best grips for sweaty hands.
We hope you find this information useful and that it helps you grip the club better and hit more quality shots.
So take a look again, at our top picks from Amazon!
Best Hybrid Golf Grip For Sweaty Hands
Golf Pride MCC Plus4 Align Golf Grips
Best Full Cord Golf Grip For Sweaty Hands
Best Polymer Golf Grip For Sweaty Hands
Thanks for reading.
Hit 'em long and straight.
Lawrence