We've all heard the term 'hole out' used in golf, but what does it actually mean? Is it reserved for chipping one in from off the green or a hole-in-one on a par 3? What about draining a long birdie putt - is that considered a hole-out? And, more importantly, what is that extraordinary blissful feeling of achievement when you actually hole out from off the green? Well, you're in luck. We're here to provide all the answers to your hole-out questions and maybe even help you hole out with a little less stress. So grab your golf club and let's get started.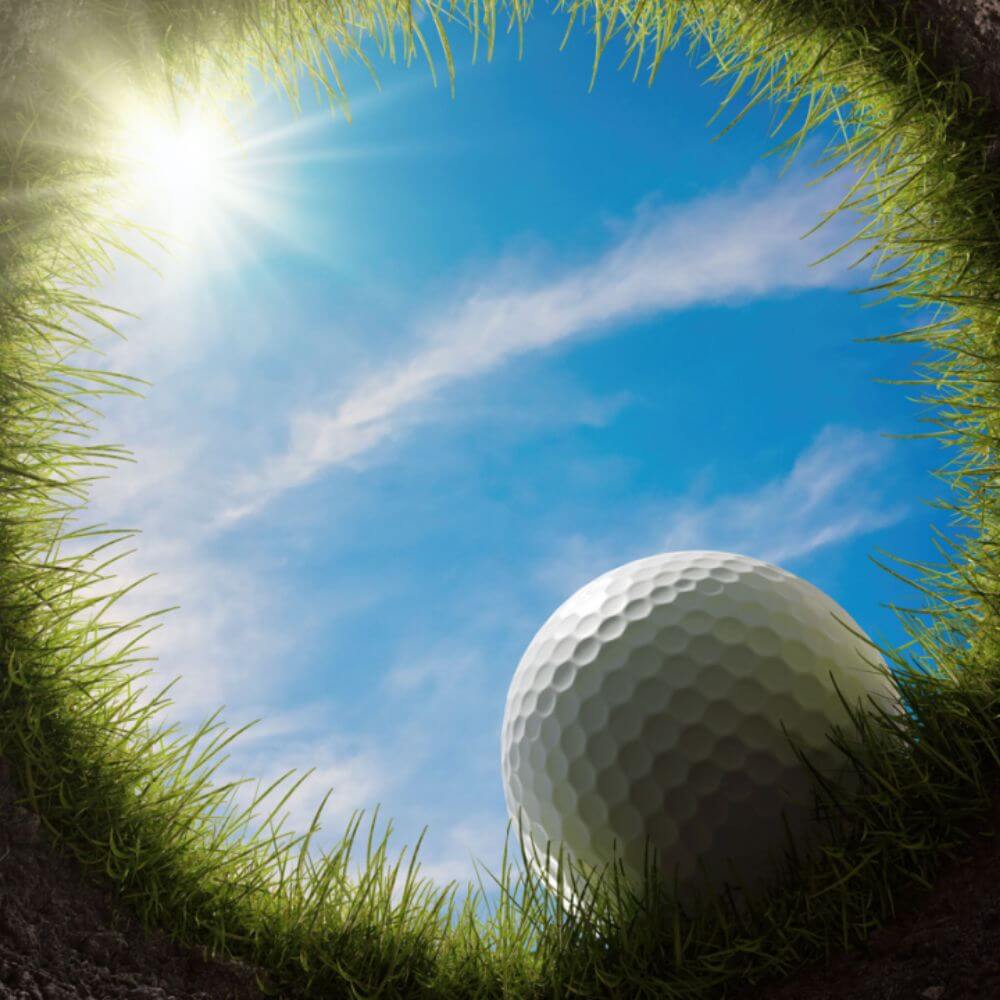 What is Considered a Hole Out in Golf?
A "hole out" occurs when your golf ball makes its way into the cup on any given hole. Whether you chip it in from off the green or sink a long putt, or maybe even a drive makes its way to the cup, if your ball goes into the cup then you have officially "holed out". In simple terms, it's the last golf ball that a golfer plays. When a golfer holes out it should be celebrated. It means that you've completed the hole and hopefully recorded a score of par or better on that particular hole.
Most hole-outs occur when you sink a short putt. You hit your approach onto the green and then 1 to 3 putts later you've holed out. And technically this is a hole-out. But you may not hear your golfing buddies shout out - "nice hole-out..." The term hole-out is more commonly reserved for something a little bit more special - like slam dunking a wedge from the fairway or blasting one out of the sand for a birdie.
What Happens if You Don't Hole Out on a Hole?
If you're playing stroke play and don't manage to get your ball into the cup on any given hole, then you will be disqualified for not finishing the hole. So make sure you hole out before your tee shot on the next hole otherwise your round will end early.
With that said, there are different scenarios in which a player can start, but technically not finish the last hole. This occurs when you're playing match play golf or playing by handicap rules. Let's take a closer look:
In match play, your opponent has conceded the hole,
The outcome of the hole is already settled
If you're playing Four-Ball, your partner has holed out with a lower score
Under the handicap rules, a player is struggling on a particular hole and has exceeded their handicap limit (net double bogey).
Famous Hole Outs Heard Around The World?
There have been some incredible holes outs throughout golfing history even hole in ones. Here are six of our favorites - all on the main professional tours.
Tiger Woods' famous chip-in at the 16th hole during his victory at Augusta National for his 4th Master's title in 2005. Perhaps, one of the greatest lines in sports commentary sums it up best - "In your life have you seen anything like that?", said Mr. Verne Lundquist.
The famous comeback at the 1999 Ryder Cup - Justin Leanard holes out with a 45 birdie putt on the 17th green for a historic US victory at the Country Club in Brookline, MA.
Gene Sarazen holes out with a fairway wood on a Par 5 for an albatross. The year was 1935. It was Hole #15 at The Masters. Sarazen would claim victory in a playoff with an amazing double eagle.
Larry Mize holes out on #11 at Augusta to snatch victory from Greg Norman. The year was 1987. Mize was faced with what seemed like an impossible chip from 35 yards on the second playoff hole at the Masters.
The Setting - the 17th Hole at Pebble Beach. The Moment - the 1982 US Open Final Round. The Characters - Tom Watson and Jack Nicklaus. Facing a frightening lie in the deep rough Watson holes out for an improbable birdie as Nicklaus watches from the clubhouse. Watson would go on to claim his first and only US Open.
A young Tiger Woods holes out for an ace at the loudest craziest hole in golf - the 16th at the Phoenix Open in 1997. Maybe it wasn't at a considerable distance but there was no second shot required.
These moments live on forever and serve as inspiration for aspiring golfers everywhere who hope to someday create their own amazing moment of glory!
Hole-outs can be incredibly exciting, especially when they involve incredible feats of skill or luck. From Tiger Woods' chip-in during the Masters to Gene Sarazen's albatross at Augusta National, there have been some spectacular hole-outs throughout golfing history that will live on forever as a source of inspiration for aspiring players everywhere. Whether it's a friendly competition individual stroke play, or match play rules, make sure you keep your eye out for those special moments on the golf course and celebrate each one with joy! Who knows? Maybe someday soon your own amazing golfing shot will become part of golfing lore.
Thanks for visiting. We can't wait to see you again!
Hit 'em Long and Straight
Lawrence
If you're looking for more hole-outs here's the best place to start.