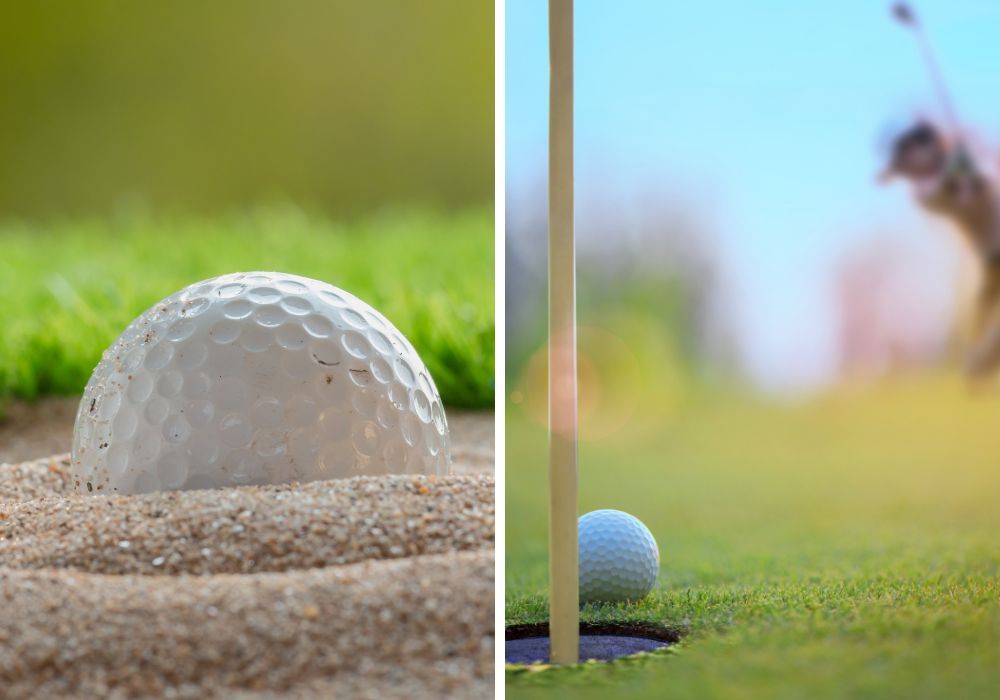 It's time to hit the golf course and brush up on your knowledge of 'bogey'! Unless you've been living under a rock, chances are you're already familiar with the term "bogey golf." But what does it actually entail? From the USGA's definition of a "bogey golfer" and whether bogey golf is good or bad to historical meanings and numerical comparisons - here is an in-depth breakdown on bogeys! So don't hesitate any longer - grab your clubs, head out to the course, and let's get ready for a game of bogey golf!
What is a Bogey Score in Golf?
In simplest terms, a bogey is one stroke over par on any given hole. Let's take a look at what this means on your typical 18-hole golf course. The 1st hole is a short Par 4. You reach the greenside bunker on your second shot. You're out in 3 and you 2-putt for a 5 or a bogey. You are now 1 over for the round after 1 hole - on your way to a round of bogey golf.
What is a Bogey Golfer?
Being a bogey golfer may not seem the most glorious title on the golf course. The "bogey golfer" is often seen as the average Joe or Jane but it's still something to be proud of! Think about it, 90 strokes across 18 holes is no mere feat. And while it's clear that there's a difference between shooting an 89 and shooting a 110, being a bogey golfer doesn't require Rory McIlroy-sized skill! With practice and dedication, anyone can become a bogey golfer - simply put, it's all about putting in the work to get your score below 90.
How Does The USGA Define A Bogey Golfer?
For course rating purposes, a male bogey golfer is someone with a USGA Handicap Index of 17.5 to 22.4 strokes. They can typically hit their tee shot 200 yards and reach a 370-yard hole in two shots. For female players, the corresponding handicap range stands at 21.5 to 26.4. This means their typical drive averages 150 yards off the tea. They should be able to reach a 280-yard hole in two shots. Interestingly, if your average drive is much longer or shorter than 200 yards, the USGA will not consider you a bogey golfer for course rating purposes.
The Word Bogey - A Brief History?
The year was 1890 and Hugh Rotherham was the secretary of the Coventry Golf Club. Hugh decided that golf needed a standard system of scoring - that is how many shots a decent golfer should take at a single hole. This became known as the ground score.
From here the exact history and introduction of the term bogey become a little foggy. However, according to Scottish Golf History, here's the story. During a match-play event with the Great Yarmouth Club, a gentleman who may or may not have been the mayor said, (we think) "that player of yours is a regular bogey man..." Now, sounds like slang or an expression, but remember we're not even in the 20th century. Maybe it was a song everybody loved at the time. All we really know is that the term bogey quickly came to mean "ground score" - the accepted score or the modern equivalent of par.
History tells us that the term 'bogle' originated in Scotland, dating back to the 16th century. This word was used interchangeably with "Bogey-man" as a reference for devilish creatures or goblins. In golf during this time period, players measured their progress against what they dubbed Mister Bogey - which we now understand to be bogey competitions or handicap challenges and stablefords, depending on one's choice of words.
It was not until the 20th century that bogey arrived at its present interpretation - 1 over Par.
Bogey Golf - The Match Play Game
Has your regular foursome abandoned you for this weekend's round of golf? Are you still itching to play and compete? Then we've got the game for you - Bogey Golf. It's match play with a Las Vegas twist. You compete against bogey scores and golf courses. Think of it like playing the house in Vegas. Let's take a look.
The concept of bogey golf is to play match play against the course using stroke play rules. The golf course records a score of bogey on each golf hole. So the player needs to beat the score of bogey to win each individual hole and go 1 up in the match. If the player records a bogey on any particular hole then that particular hole is considered halved and the overall score remains unchanged. Bogey competitions provide a unique opportunity for golfers to test their abilities against the course itself!
Bogey By The Numbers!
Everybody makes a bogey from recreational golfers to PGA tour players. So let's have some fun with the numbers.
The top 100 PGA golfers averaged between 2 and 2.57 bogeys per round in 2022.
In 2023 (at the time of publication) the top-ranked PGA player is averaging 1.42 bogeys/round.
Bogey golfers or 18 handicappers will average almost half their holes with a bogey - over 7 bogeys per round to be exact.
The 10 handicapper will also average over 7 bogeys per round (It's the lack of big numbers that separates the single-digit player from the bogey golfer - plus a birdie or two ;).
Handicaps above 20 often average less bogeys than 10 and 18 handicappers but it's not uncommon  In fact, a 28 handicapper will average 16 holes with a score of bogey or worse.
Is Bogey Good Or Bad?
At first glance it may seem like scoring one stroke over par isn't great but there's more to it than meets the eye. While certainly not ideal for professional golfers striving for perfection every time out on the course, for recreational golfers making a bogey can actually be a good score. If you're the average golfer looking to consistently break into the low or mid 80's it's not the bogeys you have to worry about. It's the double bogey, the triple bogey, even the quadruple bogey.
There's also the good bogey. You're teeing off in #7 and you hit a wicked slice out of bounds. You find the fairway with your 3rd shot and hit a beauty of an approach shot to 6 feet. You hole the putt for a brilliant bogey. Now that is a bogey in golf worth celebrating.
So while making multiple consecutive bogies can definitely lead to frustration and disappointment in your game - remember that even hitting just a few or even 6 or 7 over 18 holes will never be considered bad luck or poor play in any way shape or form! It's the double and triple bogeys that you need to keep off the scorecard.
From Bogey Golfer to Single Digits
If you're a bogey golfer your average score is around 90. That means its not uncommon for you to sneak rounds into the low to mid 80s. Which means that you're a pretty good golfer, with a solid swing and a clear understanding of the game. But what does your game need to get into the single digits?
Eliminate the blow-up holes or learn how to manage them. Bogeys aren't killing your game. It's poor decisions when you get in trouble or a fragile mental game. Sometimes it's better to take your medicine and try to salvage a bogey or even double rather than trying to pull off a heroic shot and ending up with a quad.
Work on your short game. A good short game can turn a bogey or worse into a par score. Everybody loves to bomb it down the fairway but the ability to scramble will quickly lead to lower scores. Pick up a chipping net and start practicing now.
Practice those 3-6 footers again and again and again. Invest in a putting aid. Eliminate those 3 putts and you're on your way to single-digit rounds.
Mental Focus and clarity. Playing smart golf sometimes means playing boring and safe. Don't be afraid to take an extra club if you aren't striking the ball well.
Choose the right tees. If your average drive is just over 200 yards you probably shouldn't be playing from the back tees or even blue tees.
So there you have it - everything you need to know about Bogeys in golf! We hope this article has helped clarify what makes up a "bogey golfer" according to some fascinating history and the USGA as well as giving insight into why they are important in terms of improving your overall game. Remember, mental clarity and short-game practice are the keys to lowering your scores. So don't let those bogeys get you down - work on them until they become pars and birdies instead! Now go out there and hit those links! And remember you're more than a bogey golfer.
Thanks for visiting. We can't wait to see you again!
"Keep it in the short grass"
Joseph
If you're looking to make more pars and fewer bogeys see below.