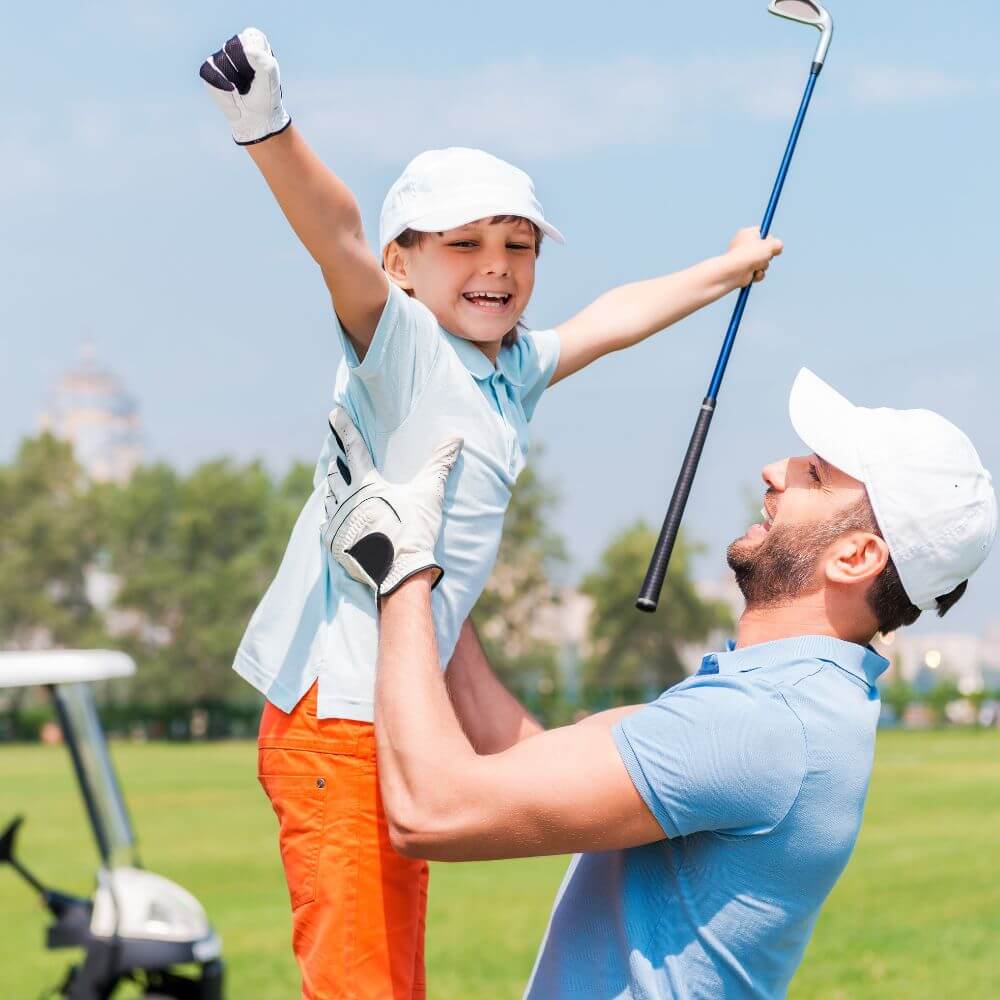 Are you ready to take a swing at a whole new level of fun? If you think golfing is just about hitting a few golf balls, riding around in a golf cart, and sipping on a few drinks, then you've got another thing coming! From the exciting challenge of mastering your swing to feeling the rush of adrenaline when hitting that perfect shot, golfing can be an incredibly enjoyable experience. And we haven't even made it to the 19th hole yet? So put down those clubs for now and read on to find out why golfing is so much more than just putting around!
The Beauty of Nature
When playing golf, you get to witness stunning natural surroundings up close and personal. From roaming wildlife to tranquil lakes, lush trees and everything in between - every round of golf is a unique journey through nature's wonders! Whether it's a picturesque mountain range or an idyllic tropical beach setting that takes your fancy, the beauty of nature will captivate you completely as you play. There truly isn't anything better than taking in breathtaking views while experiencing the joys of golfing!
10,000 Steps and More
Feeling the need to get some exercise? Golf is an excellent option. Each 18-hole round averages over 10,000 steps and over five miles of walking – that's approximately 1,500 calories burned! Naturally, this number will vary depending on whether you prefer golf carts or walking; a hilly course would also require more energy than a flat one. Plus if you're opting for a walk in nature, don't forget: those clubs add up to 20-30 pounds of gear! Now that's what I call getting fit while having fun.
Finally, most rounds average 4 hours or more. But that's not all - the physical benefits of golfing are multifaceted. Not only does it help you burn calories, build strength and improve coordination, but golfing also has a positive effect on your mental health. From increasing your focus and concentration to helping reduce stress, golfing can be a great way to stay active and healthy.
Competition
Golf offers an excellent way to battle against friends, family, and other golfers. And thanks to the handicap system the playing field is always level. A scratch golfer can compete with a high handicapper. Whether you're playing for bragging rights or cash prizes, there is nothing like feeling a bit of pressure when you stand over a short par putt for all the skins. Even if you don't always emerge victorious in every match, learning from your mistakes while honing your game can be equally gratifying!
And the beauty of golf is that you can still compete even when you're out there all by yourself playing by your own rules. The game is called bogey golf and it's you against the golf course in a game of match play. All you have to do is beat the golf course's score of bogey on each hole. Now that sounds Fun!
The Challenge
Golf isn't easy; it takes skill and practice to become a great golfer. Every hole presents a new challenge and every swing requires clarity, focus, and commitment. Even if you've been playing for years there will still be shots that make you scratch your head, golf clubs that don't seem to be doing their job and holes that require as much strategy as they do shot-making. It's these challenges that make golf so much fun—after all, what would be the point of playing if it was too easy?
Social Interaction: All Ages Welcome
Many people enjoy golf because it provides an opportunity to socialize with friends or colleagues while having fun at the same time. It's also an activity that can involve people of all ages and skill levels; you don't have to be good at golf to have fun on the course! It's more than just a sport.
What other sport or activity can a grandfather and grandson play together or even compete against each other? Bottom line - golf is a sport that does not discriminate.
New Friends
You sneak out of the office and make your way to the course for a twilight summer round. You step up to the first tee and you introduce yourself to your playing partners. Little do you know but over the next 4 and a half hours you'll get to know your new best friend.
Golfing can also be an excellent way to make new friends. Over the years, many people have met lifelong friends on the course - something that you simply don't get with other sports. So why not take a few lessons and find out what golfing is all about? Even if it's just you heading to the course for a solo round, who knows what new relationship awaits? You'll soon see why so many people love this game and enjoy playing golf.
Personal Growth
"Golf is the closest game to the game we call life. You get bad breaks from good shots, good breaks from bad shots – but you have to play where it lies." - Bobby Jones
Golf can help foster personal growth as well. As you continue to practice and hone your skills, you will start to notice an improvement in your game—which can be a very rewarding feeling. It takes dedication and determination, but the end result of becoming a better golfer can be worth it in the end.
It's also been said that you can learn a lot about someone's character over a round of golf. It's a game about life and a game about misses. How you handle yourself on the golf course says a lot about who you are. How you handle unlucky breaks can help define your success.
Memories with Friends or Family
Finally, golf can be a great way to make lasting memories with friends or family. Every round is different and you never know what kind of experiences you and your loved ones will have together on the course. Golf can also be an activity that is shared across generations, so it's a great way to bond with relatives.
Strike a Deal
You can also use golf as an opportunity to build business relationships. Golf courses are a perfect venue for connecting with colleagues and potential customers in a relaxed environment, making it easier to make deals or close sales. The long walks between shots also provide an opportunity to get away from the office environment and have a more relaxed conversation.
Finding a Golf Cart With No Governor
Sometimes the best part about playing golf is riding in the golf cart with your buddy and drinking a beer. But if you've played the game long enough, especially in your younger wilder years you know the thrill of finding a golf cart with the governor removed. There's something fun about zipping by your golfing mates in their slow-moving governor-restricted golf carts.
The Charity Scramble
Golf can be an amazing way to give back to your community and help out those in need. If you have ever played golf in a charity scramble you know how much fun it can be. Plus the scramble format allows golfers of all levels to compete with each other as a team in a super engaging friendly tournament. Talk about golf fun - everybody gets to hit their own golf ball and contribute to the team's success.
The Perfect Golf Swing, The Perfect Shot, The Perfect Hole
Nothing compares to the feeling of stepping up and striking the ball absolutely perfectly. Or sinking that long eagle putt. Golf's addictive qualities will always have you coming back for more. Sometimes all it takes when you're having a bad day is that one perfect shot to fill you with joy. Plus it keeps you coming back for more and keeps that golf bug alive.
The 19th Hole
Ahh, the 19th hole - that special place on the golf course where you can sit down and enjoy a cold beer with your friends after a game of golf. There's no better way to relax after an intense game than to kick back and relive all the ups and downs of a beautiful round with your friends.
So, is golfing fun - Absolutely! At the end of the day, playing golf is all about having fun! Whether you're hitting that perfect shot or just enjoying a cold beer with your friends at the 19th hole, there are so many ways to enjoy this wonderful sport. So why not grab some clubs and hit the links? You never know who you might meet along the way or what memories you'll create when you play golf. Who knows - maybe golf will even become your new best friend!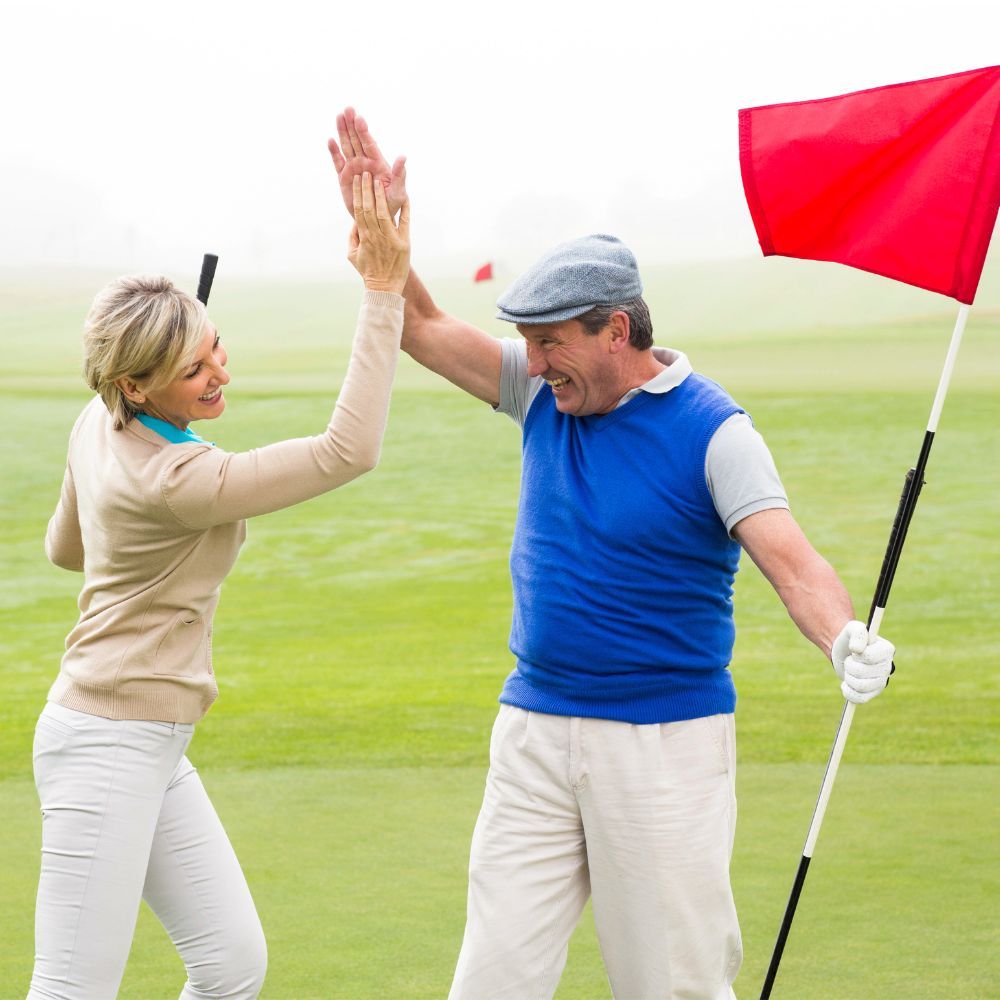 Thanks for visiting. We can't wait to see you again!
"Keep it in the short grass"
Joseph
Looking for the perfect gifts for all your golf-loving friends and family? See below.