How Should Golf Shoes Fit?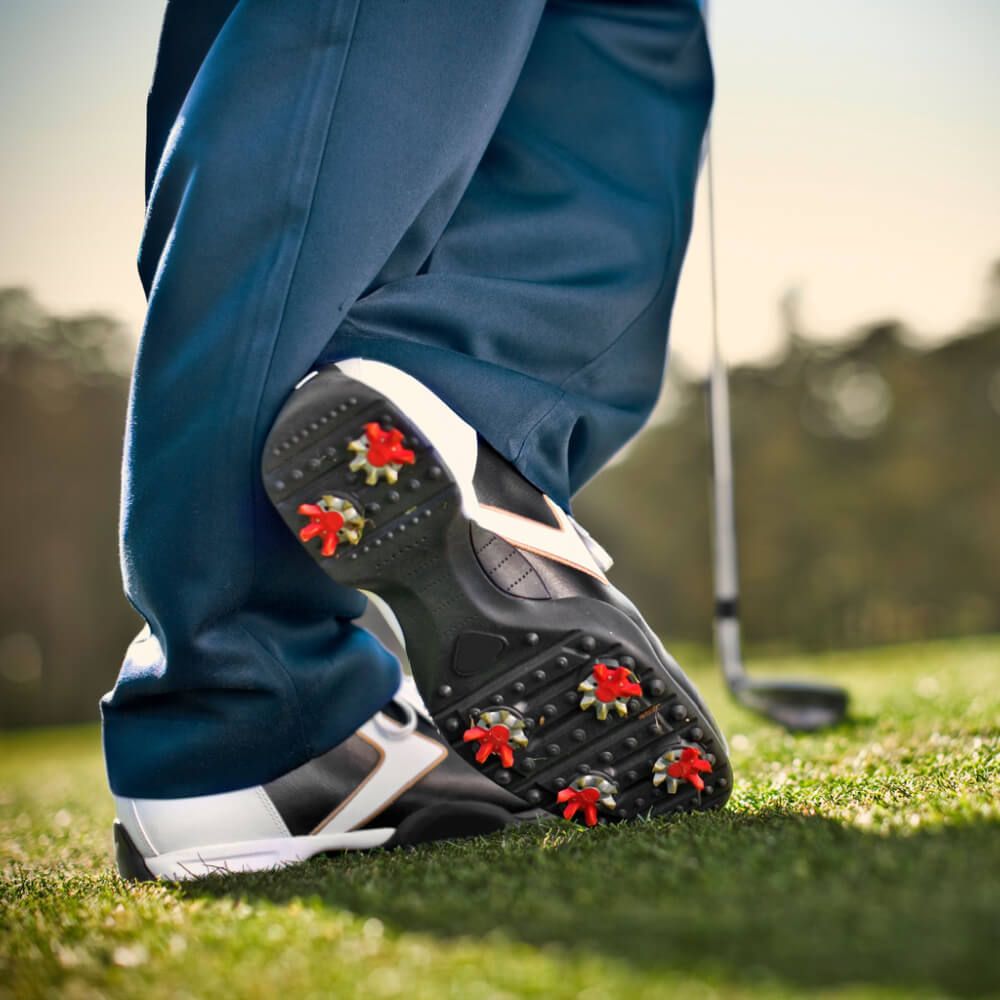 When it comes to golf, having the right gear is a must if you want to play your best. Most players know how beneficial properly fitted golf clubs can be and how important it is to choose a golf ball that matches your swing speed and game. However, there's another important piece of equipment too, maybe even more important—golf shoes!
Getting the ideal fit in your golf shoes not only puts a smile on your feet but can also improve your performance on the course. Studies have revealed that selecting shoes specifically tailored to your size and type of play can significantly improve performance! With the right amount of comfort and support, perfecting your swing becomes much more achievable.
So, how should golf shoes fit? Read on for a simple guide to getting the perfect golf shoe and the perfect fit!
Do Your Research
Before you buy a new pair of golf shoes, it's important to do your research. Make sure you know what kind of features you want in your golf shoes and which brands offer those features. For example, if you're looking for extra support, some brands offer extra cushioning or arch support in their shoes. Identifying the features that are essential to you is key when it comes to narrowing down your product choices and saving valuable time while shopping.
So what exactly makes a great-fitting golf shoe? It all comes down to three factors: size, width, and arch support.
Size Matters
The first step in finding your perfect pair of golf shoes is measuring your foot size. You can measure your foot size with a Brannock device or measuring tape—or, if you're feeling brave, you can always just try on some different sizes until you find one that feels right. It's important to remember that shoe sizes can vary by brand, so if you've been wearing a particular brand for years, be sure to double-check their sizing chart before making a purchase.
Width is equally as important as size when it comes to choosing a pair that fits you nicely. Most people fall into one of two categories – standard width and wide width – so make sure you choose the right option for your foot shape. If the sides of your shoe feel too tight, then switch up to a wider fit.
Try Before You Buy
You should always try on any pair of golf shoes before buying them, even if they seem like the perfect fit online. When trying on golf shoes, it's important to keep a few things in mind. First, check that there is at least 1/2 inch of space between your longest toe and the end of the shoe. Make sure they are snug but not too tight—you want to feel secure but also comfortable enough to walk around in them without feeling any pain or discomfort. This will ensure that your toes have enough room while walking and playing golf. If the shoe doesn't allow enough room then it might cause discomfort or blisters during play.
Additionally, make sure that there is no tightness or looseness around your heel area—you don't want your feet slipping out of the shoe when swinging the golf club!  if your heel slides out causing discomfort or pain then you may need a higher-cut shoe or an insole with additional support around the heel area.
Lastly, take a few practice swings with the shoes on both inside and outdoors (if possible). Make sure that the overall feel and weight of the shoe work for you; some people may prefer lightweight shoes for more comfort and walking while others may prefer heavier ones for better stability and support.
Cushioning and Support
Finally, no good pair of golf shoes is complete without proper arch support! Look for cushioning along the inside sole and midsole area, as this provides greater shock absorption when you're trying to unleash those big drives and helps reduce fatigue over time.
When it comes to cushioning and support ideally you want to test out your new possible pair of shoes. The best way to test this is by taking off your socks and standing in the store as if you were actually playing golf (yes – we know this isn't always possible or practical). This allows you to get an idea of how much cushioning and support the shoe provides when your feet are in motion.
Water Resistance
Rain or shine, don't let wet conditions dampen your golf game any longer! Nowadays, it's easy to find quality water-resistant golf shoes that will keep your feet dry no matter the climate. Many of these modern pairs boast waterproof membranes designed specifically to prevent water damage and block out moisture—just check for "waterproof" on the label before you buy!
Now that you know how to find comfortable golf shoes that fit properly, let's talk style! With so many great brands creating stylish designs nowadays, there really is something out there for every golfer – no matter what their taste in fashion may be! From traditional leather models to modern mesh builds with vibrant colors, there really is something for everyone these days. So whether you prefer subtle and classic looks or bold and bright color combinations – don't be afraid to express yourself on the course!
Finding the perfect golf shoe doesn't have to be a daunting task. With these tips in mind, you can feel confident that your next pair of shoes will fit like a glove and look great too! From considering widths and trying them on before buying to ensuring cushioning and water resistance are up to par, there's no shortage of factors to consider when selecting your new kicks. And don't forget about style—with so many fun options out there nowadays, it's easy for everyone (even fashionistas) to find the perfect pair! So go ahead...hit the green with confidence knowing that you've got all things covered when it comes to finding golf shoes that fit just right.
If you're in the market for a new pair of golf shoes, see below.