Have you ever wanted to experience the thrill of both stroke play and scramble play but weren't sure how? Well, look no further - Introducing the shamble golf tournament! And not to be confused with shambles meaning your game is in a state of total disarray.
A shamble combines the best of both worlds, stroke play, and a scramble, and gives each player a chance to reap the rewards of the team's longest drive. Ready to learn more? Let's dive into what exactly a shamble is and why it makes for an exciting tournament format.
How It Works
The golf shamble format consists of each golfer in the group teeing off, then selecting one best drive from all players. Each golfer plays their own golf ball from that point until they put the ball into the hole. The team score is calculated by adding up the best score from each person on the team. This means that you not only get to enjoy your personal success but also benefit from your teammate's longest drives as well!
The shamble format consists of each golfer in the group teeing off, then selecting one best drive from all players. The most thrilling part about this format is that each person gets to reap the rewards of the longest drive; thus they get a great head start in their game (especially if you have someone who bombs it down the fairway!) As such, it allows players with different skill levels to compete on an equal footing. After all, handicaps can change drastically when you're playing your second shot from the fairway and with a shorter iron in your hand! golf scoring formats
Benefits of Playing a Shamble
The shamble gives golfers of all levels a chance to work on their game while competing in a fun friendly best ball type of tournament. It also allows each golfer to develop a rhythm as they have to hit all the shots and play their own ball after their tee shots. Additionally, because the team plays only the best tee shot, there's less pressure on each individual golfer to hit a great drive - making this format ideal for those who might not be so confident in their long game. Plus, it adds an element of excitement because you never know who will have the longest drive or the best shot - it could be anyone!
And there can be some fun strategy involved. If you have a shorter but consistent ball striker who always seems to find the fairway, let them tee off first. This will take the pressure off the longer hitter or two in the group allowing them the freedom to bomb away.
The same goes if you're teeing off on a Par 3. Have your most consistent player tee off first to get that much-needed green in regulation. Then the rest of the foursome can hit away with little to no pressure and hopefully set up that tap in birdie.
Finally, playing a shamble requires teamwork and collaboration; this makes for an enjoyable experience for all involved! You get to ham and egg it and help each other out. That could mean showing a better putter the line even if they're away. Or carrying an umbrella for your partner in a sudden downpour.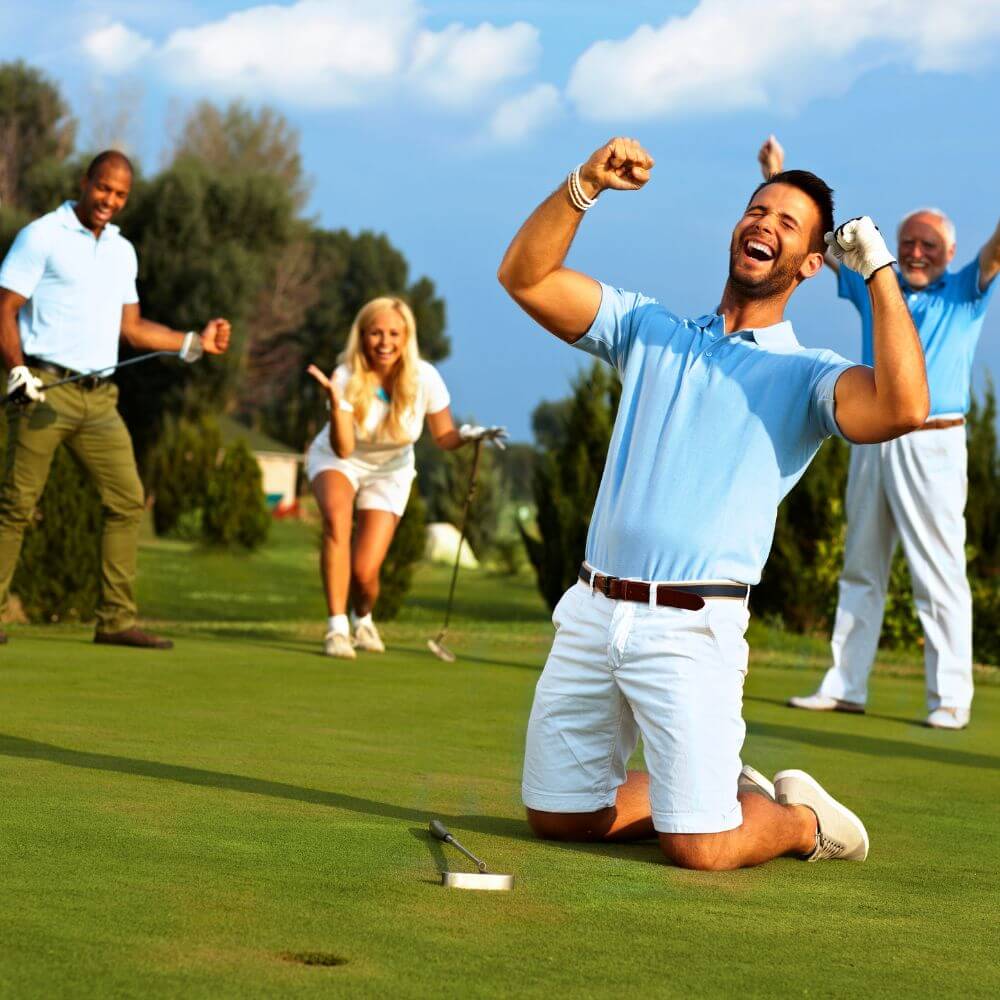 Shamble Tournament Scoring
When it comes to a scramble golf format and tournament golf outings, the scoring system is key to help ensure that all teams are competing fairly. The beauty of the shamble is that there is no one way to score - there's no need to get the United States Golf Association involved. This can create some interesting and unique ways to engage players of all handicap levels. In this type of golf tournament format, each team consists of four golfers who will have four separate scores at the end of each hole. So how do they determine the team score? It is left to event promoters and will be clearly defined at the beginning of the round! Let's take a look at some of the options.
Take the lowest score amongst the 4 players for each hole and make that the team score.
Take the two lowest scores and use those as the team score.
Or to make it a little more interesting use the highest and lowest scores as the team score. This will keep the high handicap golfers heavily involved in the tournament.
If a little more wackiness is desired, take out the highest score and the lowest score and use the two scores left.
You can also require that 1 tee shot must be used by each member of the foursome. This brings an extra level of strategy and inclusion into the match.
Sure, it might not be the most accurate way to judge performance but it definitely adds a bit of spice to make sure that everyone is having fun and feels like they're contributing to the teams' success. So go out there and start thinking outside the box. Who knows, you just may come up with a unique and exciting new way of keeping score in your next shamble golf format.
Ready to try out a shamble? Gather some friends together and hit the golf course! It's sure to be an exciting day filled with camaraderie, competition, and fun – not to mention some fantastic golfing! So what are you waiting for? Give this unique scramble tournament a try today – you won't regret it!
To maximize your team's chance of success, make sure someone in the group has a rangefinder so you can accurately lock in your distances. See below for some great options.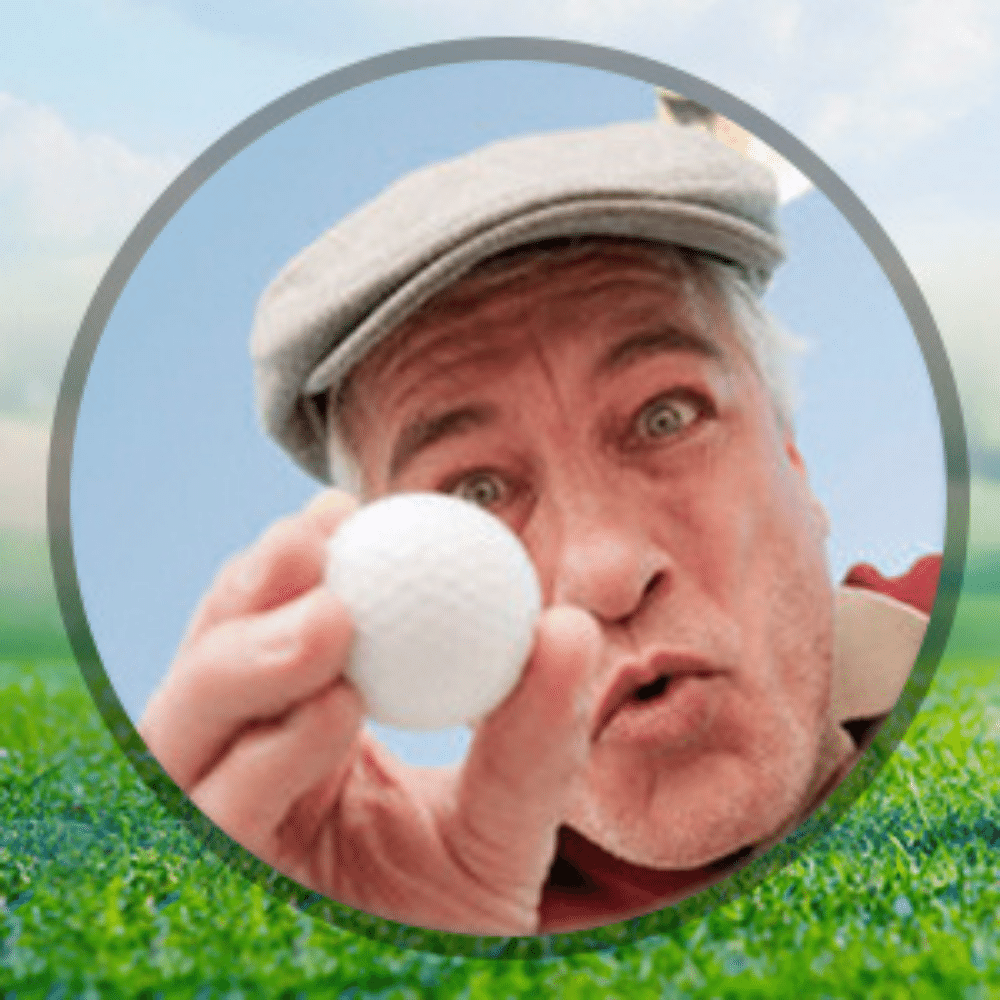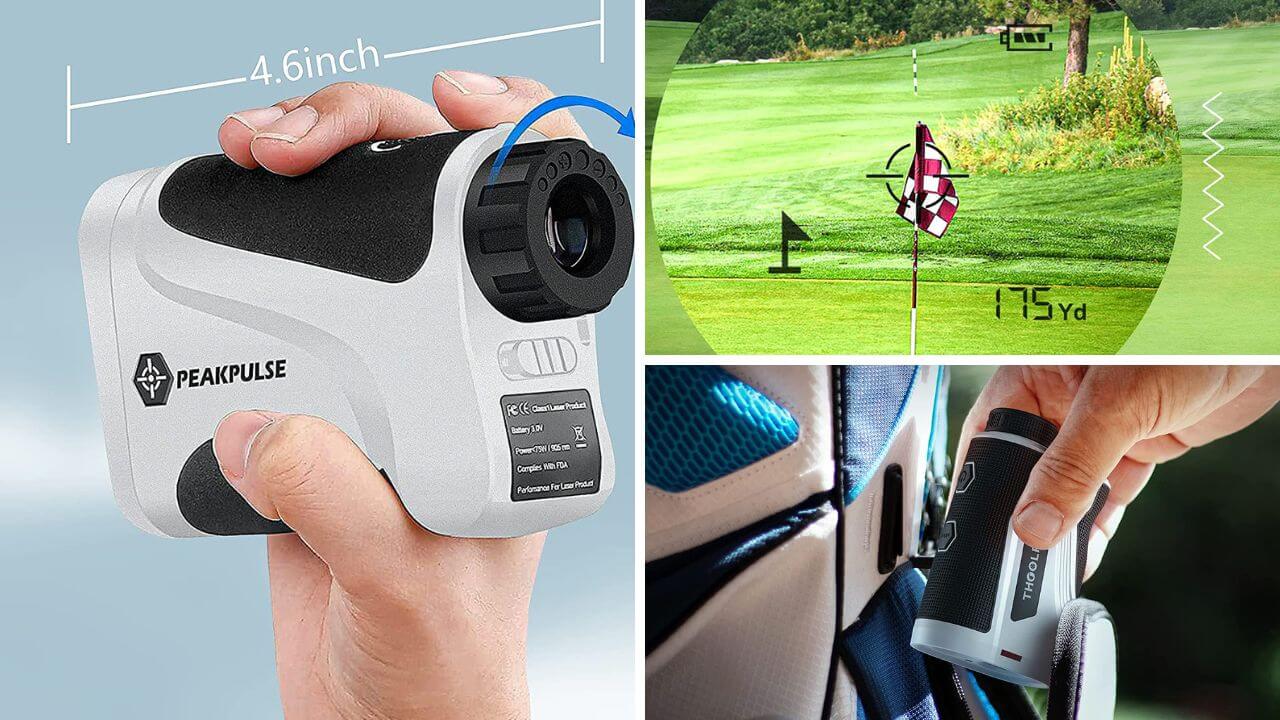 And if you're looking for golf balls designed for your game see below.