The beauty of golf is that every day is different, every game is filled with laughter and tears and every course is a new challenge. The legendary sportswriter, Bob Ryan summed it up best when he described golf as:
"A passion, an obsession, a romance, a nice acquaintanceship with trees, sand and water."
From its storied history to the iconic venues where legends are made golf is a sport for all ages. The witty humorist, P. K. O'Rourke once said:
"Golf combines two favorite American pastimes; taking long walks and hitting things with a stick."
Today we're going to help you discover the joys and benefits of walking a golf course. It's about uncovering the hidden lengths of an 18-hole golf journey, step by step, mile by mile.
If you've ever wondered how many miles is walking a golf course you're in the right place. We'll take you on a journey across expansive pristine fairways, through a forest of trees, and across sand dunes and oceans of water and show you the numbers.
In this article, we're going to take a walk - a long walk - around some of the world's most memorable golf courses. We'll explore average golf course length, the factors that can extend a short walk into a lengthy hike, and the lesser-known health benefits of the walking golfer that make the sport more than just the swing of the club.
So, strap on your best golf shoes for walking and get ready for an invigorating round of golf. Packed with insights, trivia, and the under-appreciated facts of golf as exercise, we promise to keep you hooked till the 18th hole, and beyond.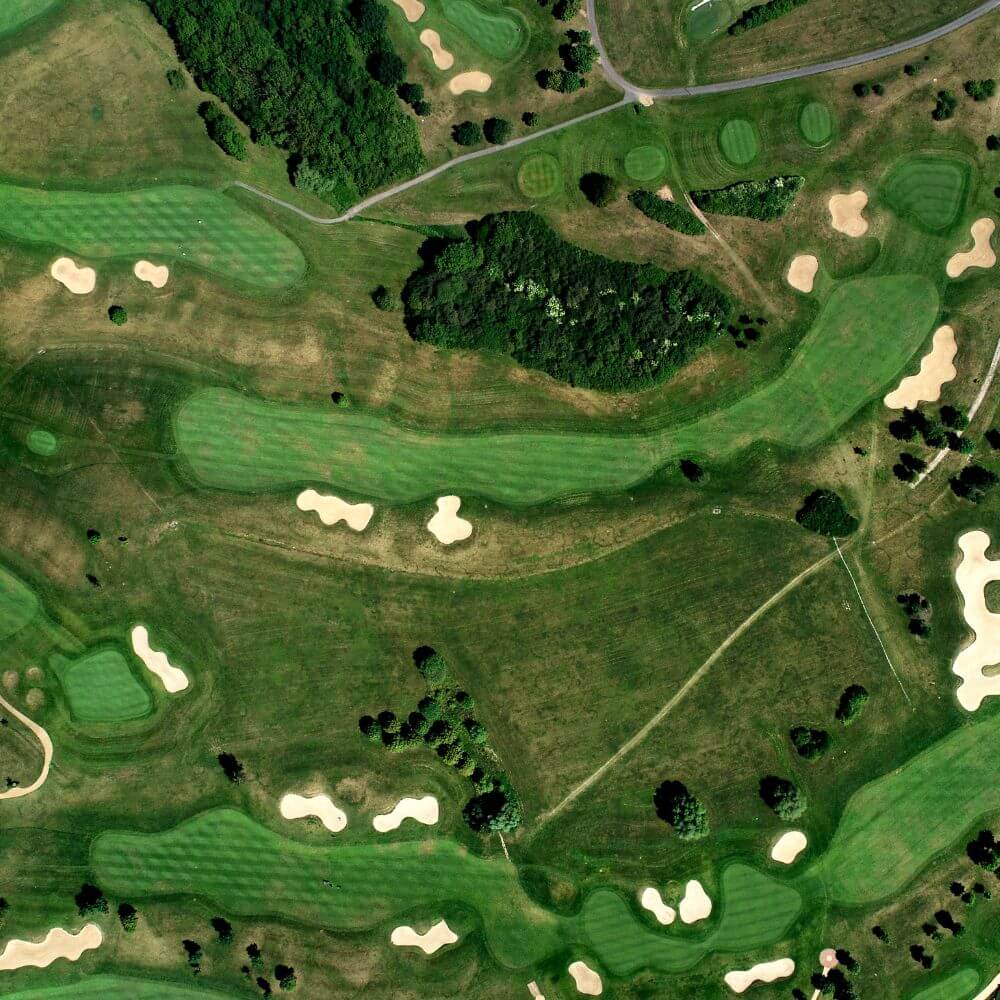 The Long and Short of It: Average Golf Course Length
An average regulation golf course, comprising 18 holes, typically measures between 5,000 and 7,000 yards. The length can vary based on course layout, the course par (the number of par 3's, 4's and 5's), the terrain, the distance between tee boxes, the distance between holes, and let's not forget, the evil genius of the course architect.
So when somebody asks you how many miles is a golf course? All you need to do is convert those yards into miles, and you're looking at approximately 2.8 to 4 miles. Starting to feel a little tired?
Let's take a deeper dive into the numbers. According to research conducted by the United States Golf Association (USGA), the median length for the forward tees measures a short pitch under 5,000 yards, and the median length for the back tees or the big bombers comes in at 6,518 yards. Almost half of the courses, 49% to be exact have back tees measuring at least 6,600 yards with the average number of men's tee boxes ranging from 5 to 6.
When we look at the forward tees for men 50% of golf courses have an average length between 5,600 yards and 6,200 yards. The highest concentration falls in the 5,000 to 5,200-yard range. And as you would expect shorter courses have fewer tee options.
Factors Affecting Golf Course Length
The Number of tee boxes available: Most golf courses offer multiple tee options to accommodate players of different skill levels. In general, golf courses typically have three to five sets of tee boxes, each set a different distance from the hole. It's not uncommon to find longer golf courses with 6 sets of tees. Let's step onto the tee box and see how this looks.
Black or Gold Tees: These are the championship tees, set up for tournament play and for scratch golfers or golfers with a handicap of less than 5. They represent the maximum length of the golf course.
Blue Tees: Often referred to as the "men's tees," they provide a challenging length for the better-than-average player. Unless you're a low handicapper or at least under 12 you may want to think twice about playing these tees.
White Tees: These are "regular" or "member's" tees, designed for the average golfer. They are perfect for mid to high handicaps - 12 to 20.
Red Tees: Traditionally known as "women's tees," they offer a shorter course suitable for female players and senior golfers.
Green or Yellow Tees: Also known as "junior" or "senior" tees, they are the shortest distance, typically used by beginners, juniors, or seniors who prefer a shorter course.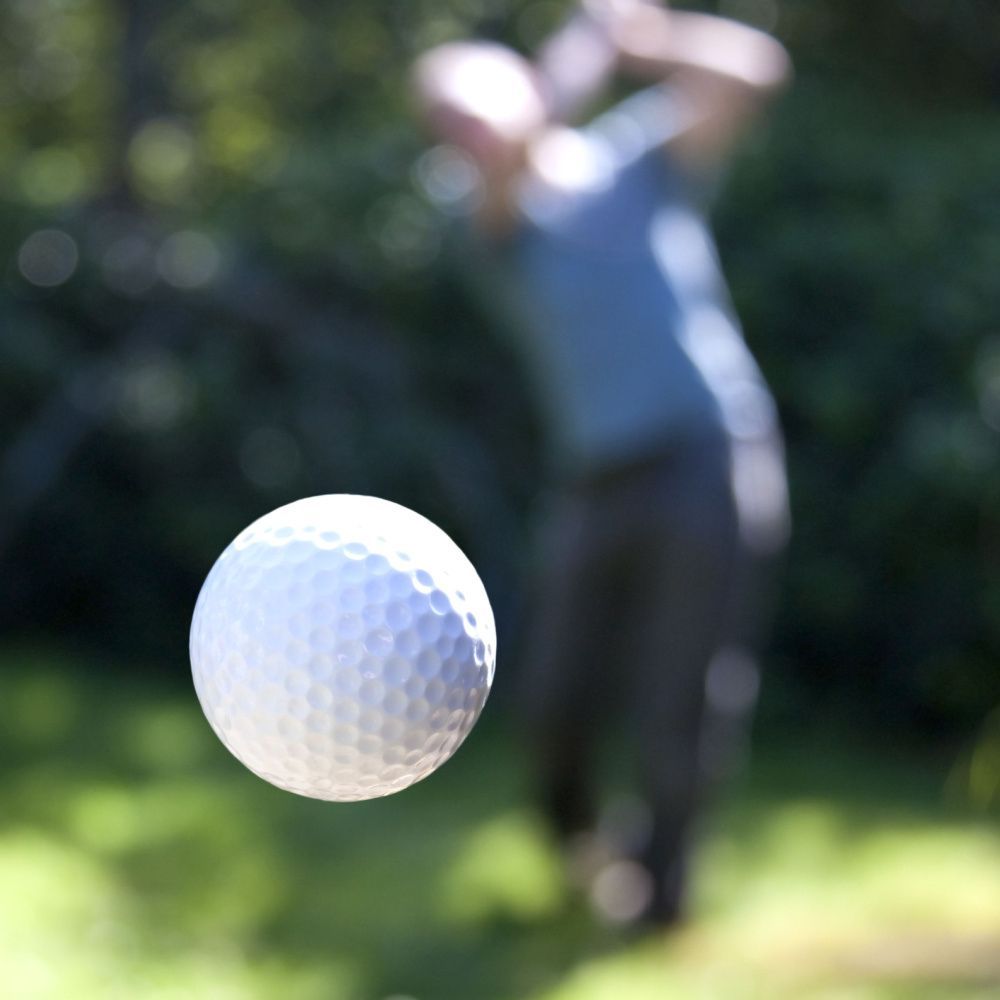 The Par of the Course: The Par of the course is dictated by the number of Par 3's, Par 4's, and Par 5's. A Par 72 course will typically have 4 Par 5's and be longer than a course that is a Par 71 with fewer Par 5's.
The Location and design of the golf course: The location also plays a role in determining its length. Golf courses in areas with plenty of land tend to be longer, than those confined areas of land. The design of the course, including the number and type of hazards, the layout of the holes, and the size and shape of the greens, can also affect the overall length.
Championship golf courses vs. Resort golf courses vs. Muni courses: Championship golf courses, designed to challenge professional golfers during tournament play, are typically the longest, often exceeding 7,000 yards. Resort courses, aimed at golfers of all skill levels, can range from 5,500 to 7,000 yards and prioritize a balance between challenge and pleasure. Municipal courses are public facilities designed for broad accessibility. These tend to be less challenging and shorter, generally ranging from 5,000 to 6,500 yards.
Topography: The natural lay of the land can play a significant role in defining the course's length. Incorporating elevation changes with features like hills and valleys impacts the challenge and length of a course.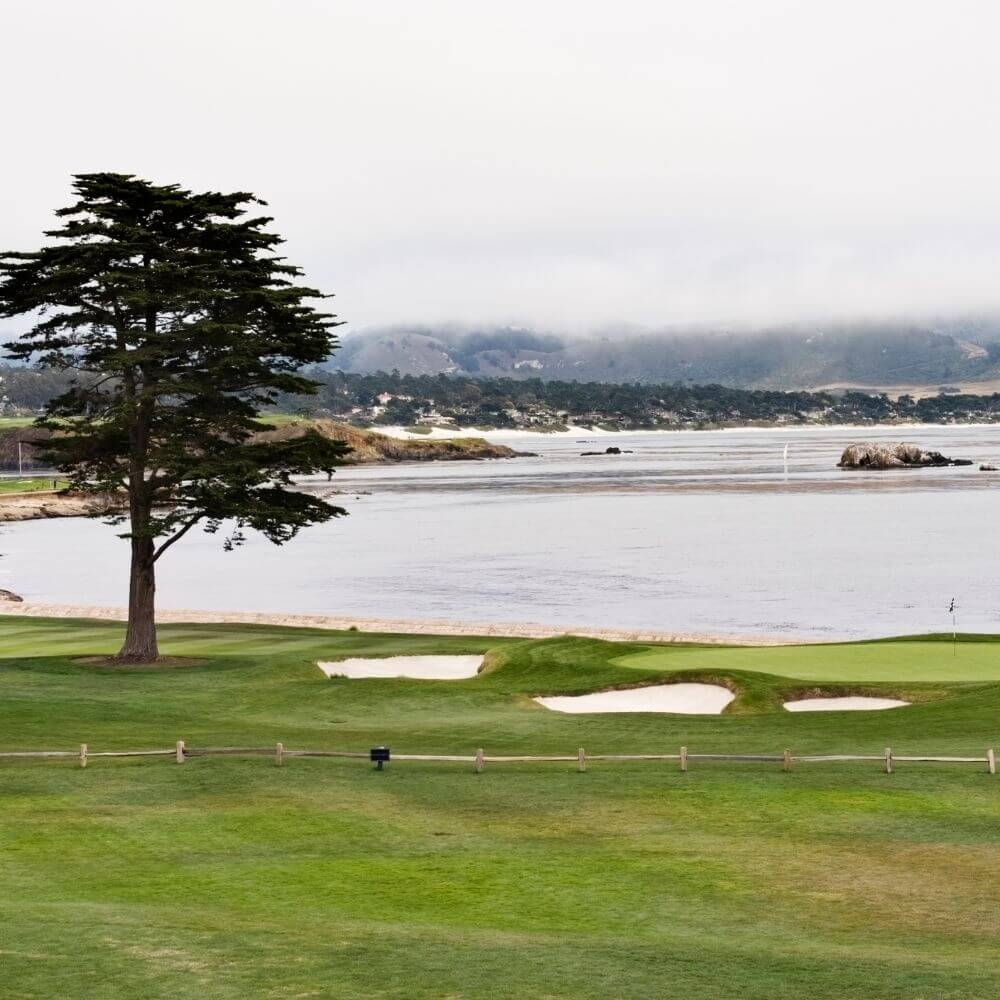 Walking With the Pros: Average PGA Tour Course Length
Are you ready for a stroll alongside the world's greatest golfers? Let's explore the green monsters that give a whole new meaning to the length of a golf course.
Courses on the PGA Tour are designed to test the endurance, accuracy, and skill of the best players on the planet. We're talking about regularly bombing the driver over 300 yards in the air. No wonder it's not uncommon to see courses over 7,500 yards in length.
The average course played on the PGA Tour is an impressive 7,200 yards. That's 4.1 miles of mental anguish for the weekend hacker. And what's more, they're getting longer.
They reflect the evolution of the sport itself. From technological advancements in the golf ball and golf clubs to bigger, stronger, fitter golfers it's a constant battle to challenge the very best. It's not uncommon to see tees pushed further back when there's land available. And if there isn't - why not turn a member's Par 5 into a tournament Par 4?
According to GolfWeek, there were only 4 courses under 7000 yards in 2022. The shortest was Port Royal in Southhampton, Bermuda coming in at just over 6,800 yards. The AT&T Pebble Beach Pro-Am regularly features courses right around 7,000 yards. However, on the other side of the spectrum is Torrey Pines South Course weighing in at a whopping 7,765 yards.
So, the next time you find yourself watching a professional tour event, take a moment to appreciate the grand scale of these tournaments. These pros aren't just battling against each other; they're embarking on a grueling lengthy journey spanning miles and thousands of steps.
Legendary Lengths: Strolling the Fairways of the World's Best Golf Courses
When it comes to iconic golf courses, length is just one of many factors that contribute to their fame and storied history. Let's see how they stack up.
Augusta National Golf Club (Augusta, Georgia, USA): The home of the Masters, Augusta National measures  7,545 yards from the 2023 Masters Tees.
St Andrews Old Course (St Andrews, Scotland): Considered the "home of golf," St Andrews Old Course plays 6,670 yards from the Black tees.
Pebble Beach Golf Links (Pebble Beach, California, USA): Known for its breathtaking coastal beauty, Pebble Beach stretches to 6,828 yards.
Royal Melbourne Golf Club - West Course (Melbourne, Australia): Yet another Alister MacKenzie gem and the best of Australia and the Southern Hemisphere, Royal Melbourne's West Course extends to 6,077 yards from the Blue tees.
Shinnecock Hills Golf Club (Southampton, New York, USA): One of the oldest golf clubs in the U.S., Shinnecock Hills measures 6,940 yards from the back (Red) tees.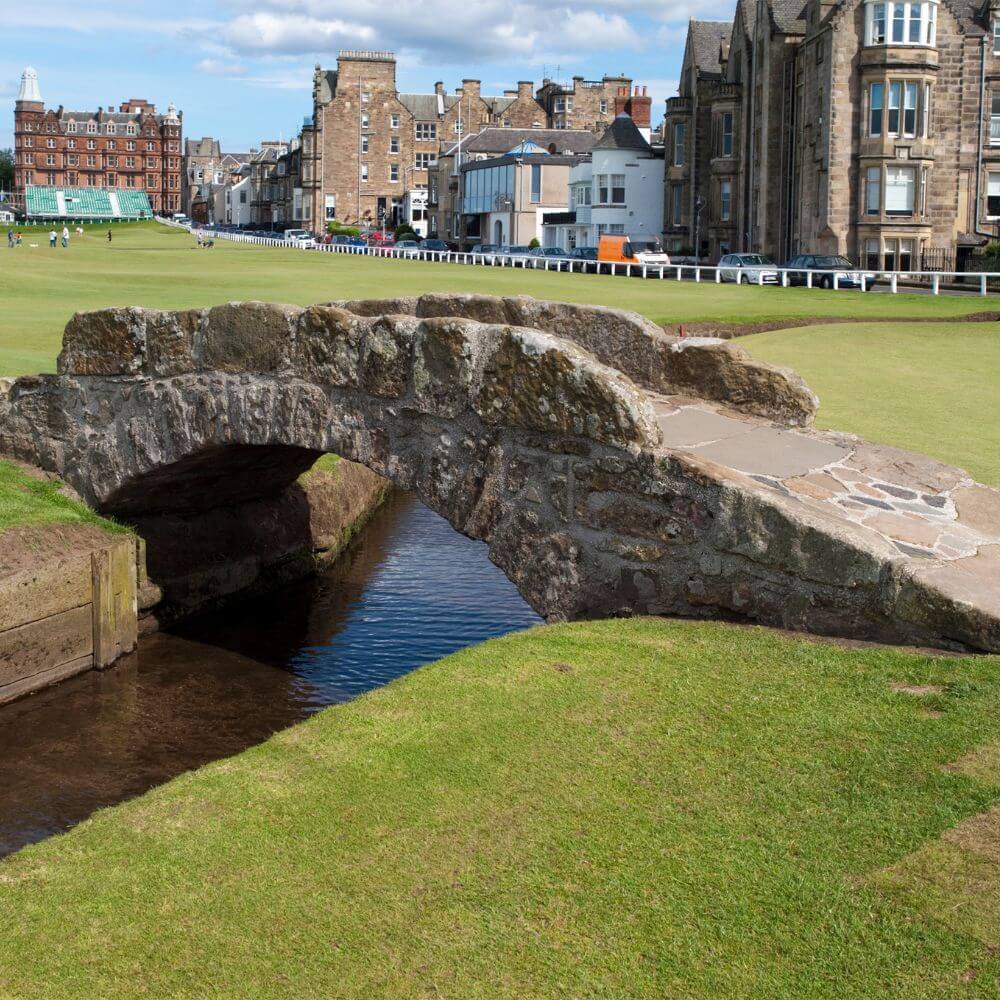 Crazy Golf Course Facts Beyond Your Imagination
Are you ready for a tantalizing detour into the world of the extraordinary? This is where we shatter the conventional, offering astonishing truths about golf courses that will have you double-checking facts!
World's Longest Golf Course: You'll need more than a Sunday Golf Bag for this round. It's called Nullarbor Links. Imagine this: 18 holes, Par 72 - sounds normal right? Course length: 848 miles - no joke here. Each hole takes you to a town or roadhouse along the Eyre Highway spanning two states - Western Australia to South Australia. All 18 holes feature a tee and a green while the fairways are natural terrain - rugged outback-style. This is definitely not a course for walking golfers. On average you'll be driving your car (no golf carts here) around 40 miles between holes with the longest distance almost 125 miles. You probably won't be waiting on the group ahead of you.
Longest Golf Course That You Can Walk: The longest golf course in the world (by holes) is the Jade Dragon Snow Mountain Golf Club in Lijiang, China. The course measures a staggering 8,548 yards from the Black tees. That my fellow golf walkers is 4.85 miles. This Par 72 course is located at the foot of the Jade Dragon Snow Mountain and is the highest course in Asia. It sits at 10,800 feet above sea level. You can count on the ball flying at least 20 percent further due to the altitude. Make sure you bring your best golf shoes for walking.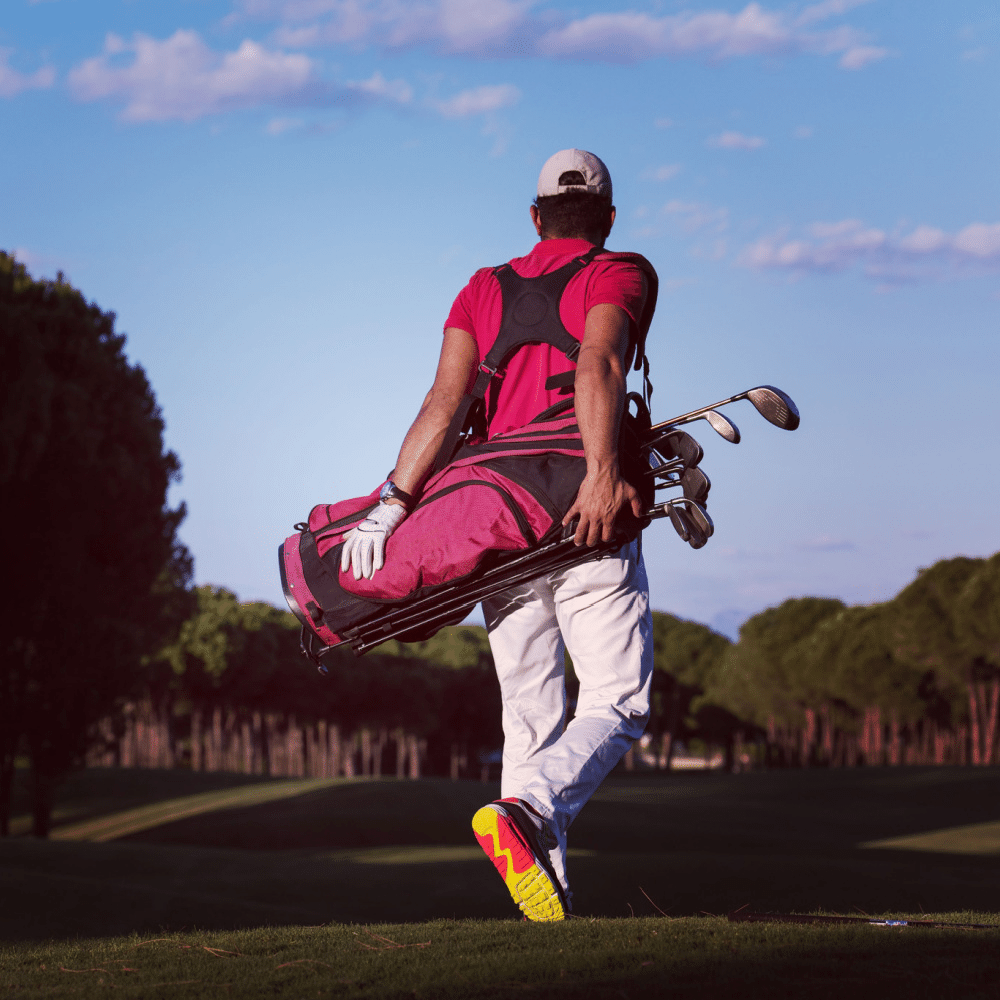 Longest and Shortest Golf Course in One Country: This one's a bit of a trick question because there's only one golf course in this country. Can you guess the country? If you guessed North Korea as the country you are correct. The course is Pyongyang Golf Course. To sum it up it's confidential, restricted, classified. private and almost unfindable. You may just get a glimpse of James Bond making the turn.
Longest Frozen Golf Course: You'll need more than winter golf shoes for this course. Here are the details. The location is Uummannaq, Greenland - 350 miles above the Arctic Circle. The tournament - The World Ice Golf Championship. The exact location changes every year due to the shifting ice. The elements: temperatures as low as -50 degrees Celsius. Fairways -frozen fjords. Hazards - Polar Bears, Seal Dens, Crevasses. Equipment - No graphite shaft due to potential shattering, Red or bright-colored golf balls are recommended. Pre-Tournament Tips - how to spot early signs of frostbite.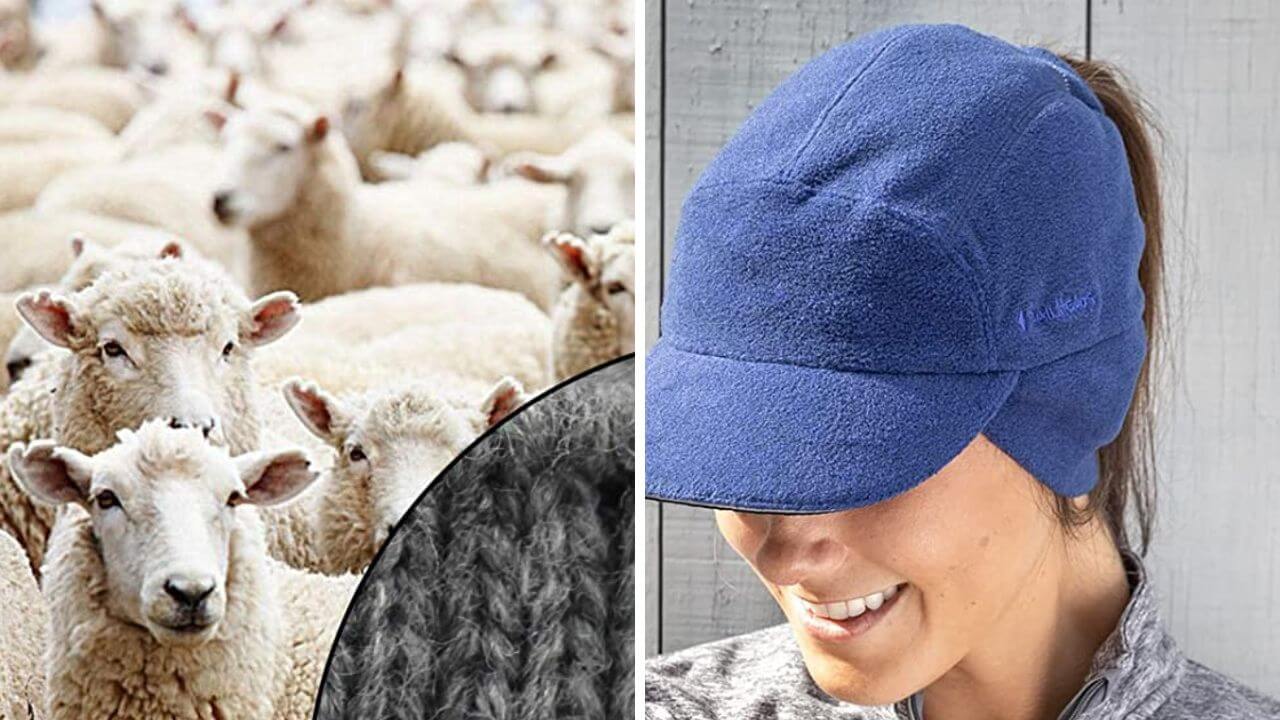 Longest and Highest Golf Course: We're giving you 3 options here.
Highest (9 Holes): Mustang Golf Club, Nepal at 15,239 feet above sea level.
Highest (18 Holes): Yak Golf Course in Sikkim, India at 13,025 above sea level. It sits on an Indian army base so it is essentially off-limits to civilians.
Highest and Best Playable 18 Holes: La Paz Golf Club, Bolivia at 10,964 feet above sea level. Spectacular design by a contemporary of Alister MacKenzie. Its spectacular canyon and cliff views make it bucket list worthy.
Let's Set the Record Straight: How Many Miles Is Walking a Golf Course?
So, how many miles is 18 holes of golf for the average golfer on their local course? On an average course, your pedometer will likely clock between 5 to 6 miles. This accounts for the travel between holes, zig-zagging back and forth looking for that errant tee shot, venturing off course into the trees and bushes to help your playing partner find his ball, and circling the putting green trying to figure out how your putt will break. And let's not forget about chasing down the beverage cart for refreshments. All these steps add up making the walking distance significantly more than the course yardage.
Essentially Sports references a study that was done in 2018 during a conference of golf architects. It was called the Royal County Experiment where a round of golf was played at the Royal County Down Golf Club. Each golfer was handed a tracking device to measure the actual distance golfers walked over the entire course. The results were fascinating.
The course yardage was 6,800 yards equating to 3.9 miles. However, the average golfer walked 70% further for a total mileage of 6.6 miles. The longest distance covered was the equivalent of walking 36 holes - 7.8 miles. You can probably assume they didn't break 100. The least amount of miles covered was 5.7 miles still 1.5 times the course length.
So unless you're hitting every fairway and every green in regulation it's probably safe to say that you can take the course length and multiply it by 1.5 to 2 to come up with the true distance golfers walk in a round. And what if you're walking a newer resort course where there can often be a lengthy walk between holes - 6 in a half miles could quickly add up to 8 0r 9 miles? Who knew those crazy golf pants could double as workout gear?
A Peek Inside the PGA Tour: How Far Does a Pro Golfer Walk in 18 Holes?
Now, you're probably wondering about PGA players. How far do they really walk in a round? Understandably they're taking a little more direct route than the average golfer walks, usually, it's fairways and greens in regulation.  But they still hit wild shots that they need to look for and they often pace off distances around the green.
Professional golfer Adam Scott once estimated that he walks around five miles for every round he plays. And a tournament features 4 rounds plus a practice round. That's five rounds in a tournament week or at least 20 miles - getting close to a marathon a week.
The PGA of America estimates that the average tour Pro plays 78 rounds per year. If we use Adam Scott's number of 5 miles versus the average course length of 7200 yards or 4.09 miles then that's 390 miles in a year. Not too shabby.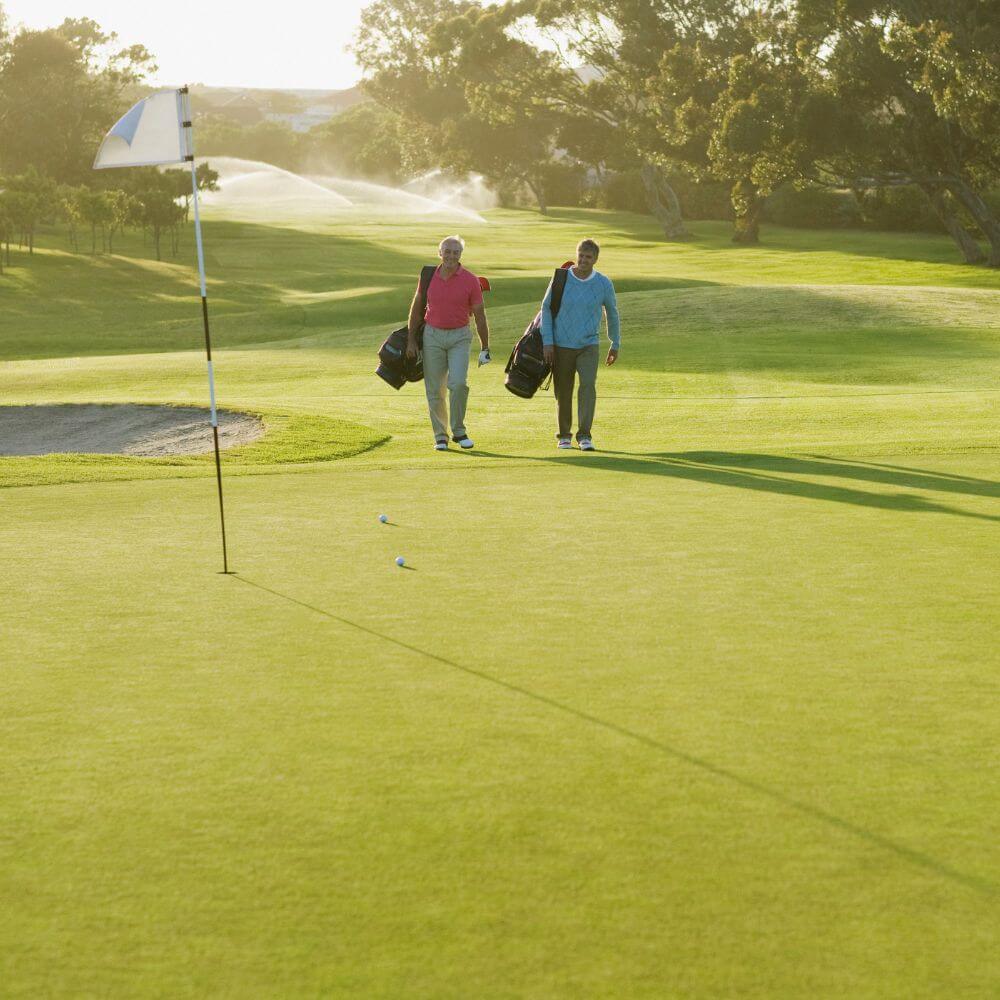 From Tee to Green: Unraveling the Remarkable Benefits of Walking a Golf Course
Ever considered swapping your golf cart for a pair of comfy golf shoes? While zipping around in a cart might seem like the fun and easy choice, we're going to share with you why walking the course could be one of the best decisions you'll make for your game and your health.
Golf carts have their place; they speed up play and provide a comfortable ride, especially on hot or rainy days. They're may be a necessity for golfers with a bad back, sore knee or mobility issues. However, by hopping in a cart, you may be missing out on some significant advantages that walking the course has to offer.
The first question you're probably asking is golf good exercise? When it comes to health benefits, golf is an excellent low-impact, cardio workout. By deciding to walk the course, you could burn up to 2,000 calories in a single round, depending on how hilly the course is and your pace of play. That's a lot of calories burned - almost equivalent to a decent gym workout.
But it doesn't stop there. Walking can reduce the risk of heart disease, lower blood pressure, and even strengthen your muscles and improve your balance and flexibility. There's even a study suggesting that playing golf can increase your life expectancy by five years. Now who wouldn't want that?
And what about the social and mental benefits of walking a golf course? Had a tough day at the office, and need to escape the hustle and bustle of daily life. Then join up with your friends, enjoy some friendly banter, and soak in the beauty of nature - playing golf brings a smile to your face and helps reduce stress.
But there's more to walking the course than just the health benefits. It allows you to fully immerse yourself in your game. Taking the time to walk gives you a better perspective of the course hole by hole. Where's the trouble, what's the wind doing, where's my best miss? You can appreciate elevation changes and better gauge your distances. And by walking up to the green you'll be able to notice subtleties in the slope and speed of the green.
Walking also encourages a natural rhythm in your game, helping to create a smoother tempo. Remember, golf is often played between your ears. Walking gives you time to clear your head, plan your next shot, and maintain focus, potentially leading to lower scores.
So, next time you're gearing up for a round of golf, consider ditching the cart or at least grabbing a push cart for your golf bag. The benefits are numerous - you get to enjoy the camaraderie of your golf walking buddies, enjoy nature and the golf course as tradition intended, and get some good exercise. And all this while playing better golf.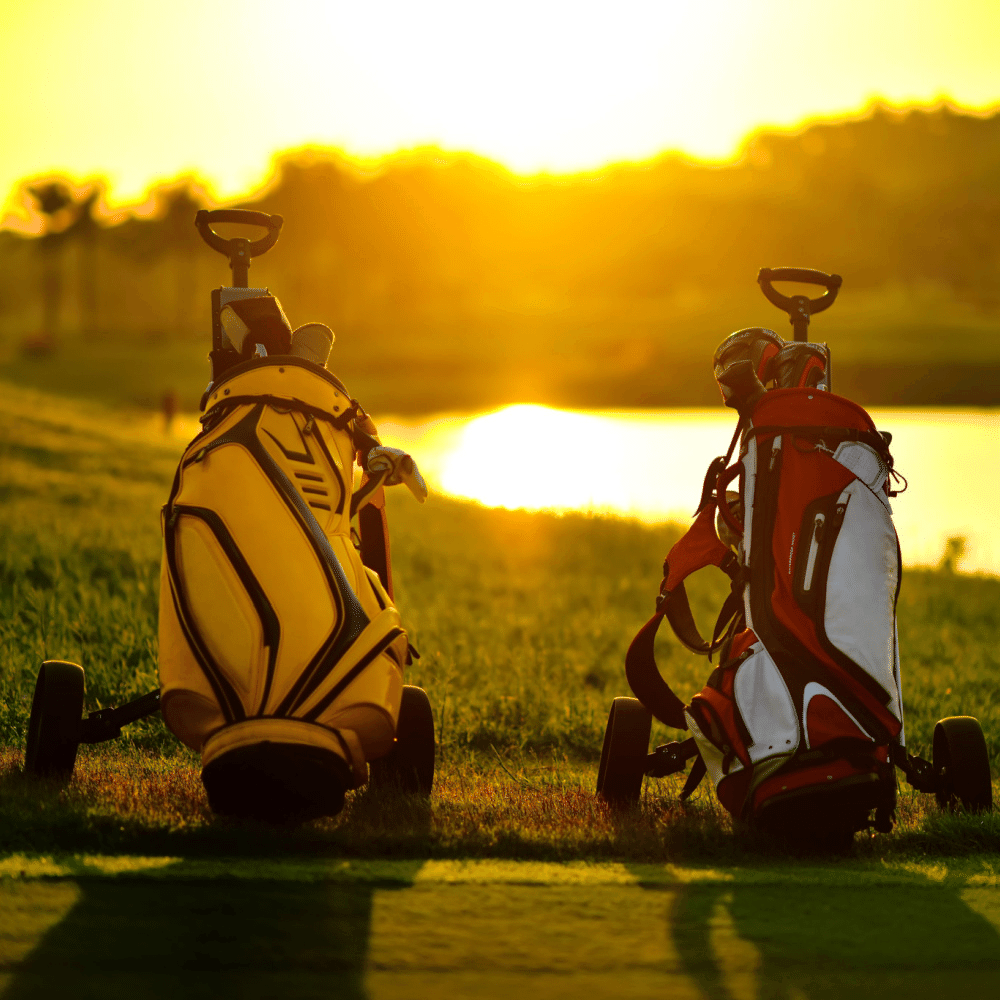 As we reach the 18th hole of our golfing journey together, it's time to reflect on the extraordinary insights we've uncovered about the lengths of golf courses and the average distance walked in a round of golf. It's been a fascinating round filled with numbers and some unbelievable facts. And, as we've discovered, there's so much more to walking a golf course than yards and miles!
Hopefully, now you can see the benefit of swapping the golf cart for a good pair of golf shoes. This beautiful game steeped in history and tradition is much more than 6 or 7 miles walked. It's a way to live longer, laugh more, burn calories, reduce stress, and play better.
So, grab your golf bag, lace up your best golf shoes, and let's get ready for miles of fun. Remember, in golf, every mile walked is a new story written. It's not just about sinking that final putt it's about every step and swing along the way.
Thanks for visiting. We can't wait to see you again!
"Keep it in the short grass"
Joseph
If you're walking the golf course good shoes are a must.
For golfers with flat feet.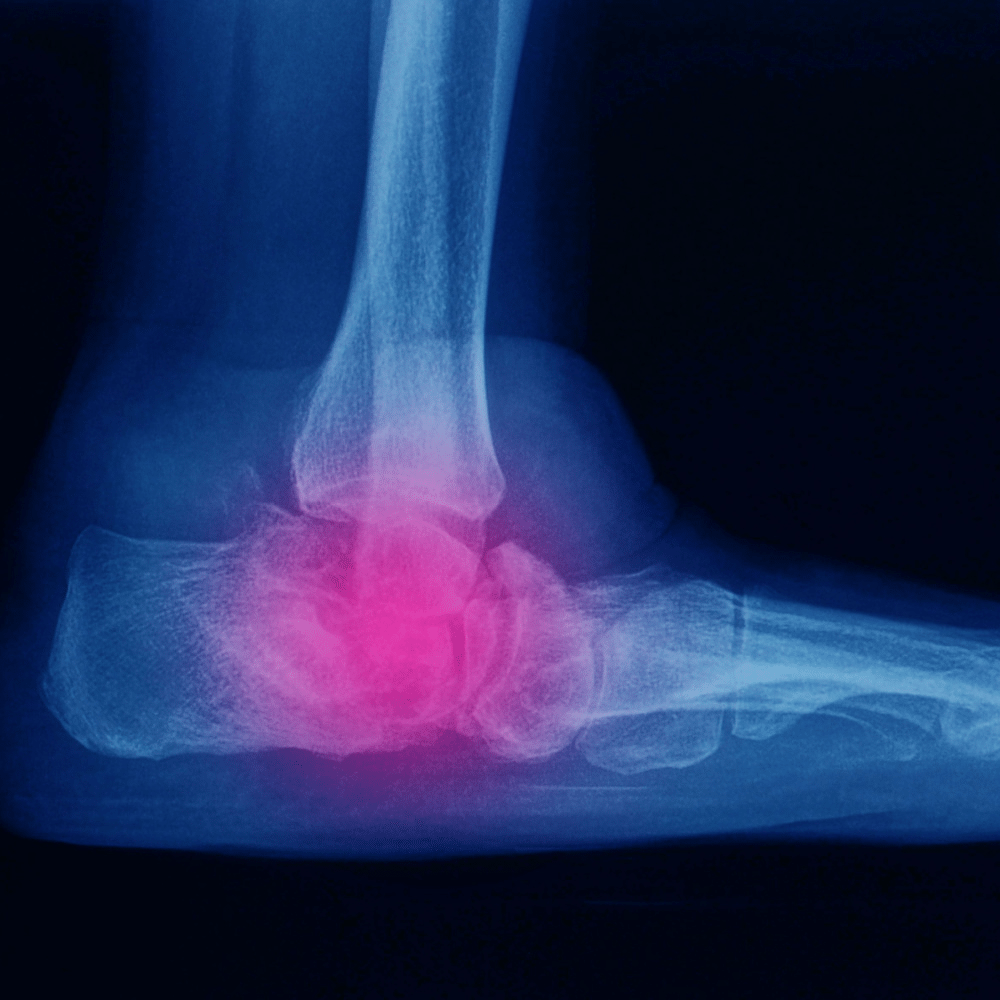 If you have wide feet.
Don't let bad weather ruin a good walk on the golf course.